| | |
| --- | --- |
| Newsletter of the International Institute for Energy Conservation (IIEC) | August 2014 |
| | |
| --- | --- |
| Highlights in this issue | |
<!-header1-->

IIEC Project News

Developing Energy Efficiency Technology Manuals for the Residential Lighting, Street Lighting and Agriculture Pumping




In May 2014, the International Institute for Energy Conservation (IIEC) was awarded a project on "Energy Efficient Lighting and Pumping: Implementation and Financing Solutions". The project is part of the partnership between the Asian Development Bank (ADB) and the United Nations Environment Programme (UNEP) with funding from the Global Environment Facility (GEF) and co-funding from the governments of Japan, Republic of Korea, Denmark, and Finland, and VITO-Flemish Institute for Technological Research NV, to pilot a climate technology finance center in Manila, managed by ADB, and a climate technology network secretariat in Bangkok, managed by UNEP. These pilot institutions directly address key barriers to climate technology transfer and deployment in Asia and the Pacific.
IIEC is tasked to develop financing and policy models to facilitate wider dissemination and large scale adoption of energy efficient technologies in the residential lighting, commercial/street lighting and agriculture water pumping sectors. The three areas covered under the project include:
1. Energy Efficient Street Lighting
2. Energy Efficient Residential Lighting
3. Energy Efficient Agricultural Pump
IIEC is responsible for developing operational toolkits which will be useful for assessing options and drafting practical solutions for scaling up implementation. The toolkits are expected to support stakeholders including industry players (equipment suppliers and energy service providers), electricity utilities, regulators, financing institutions and policy makers in design and implementation of effective solutions for street lighting, residential lighting and agriculture pumping technologies.
| | |
| --- | --- |
| For further information, please contact Sanjay Dube - sdube@iiec.org | Back to Top |
DFID UK Recognizes IIEC's Achievements in the Energy Efficient Lighting Program in Malawi

By implementing a series of Demand Side Management (DSM) techniques under the UK Department for International Development (DFID)-funded Energy Efficient Lighting Project (EELP), the IIEC helped Malawi's utility (ESCOM) achieve major reductions in peak demand. This project helped reduce national GHG emissions, avoided the need to install new generation capacity, and stimulated the economy with increased livelihoods. The project's outcomes were verified by measurements taken directly from 17 feeders nationwide, and indicate 65 MW reductions of peak demand during morning spikes, and 51 MW during the evening period. This decrease - which equates to 20% and 15% respectively - has helped reduce power outages during both peak periods, while saving an estimated 118.37 million USD to ESCOM, and 60.01 million USD for consumers.

Letter of Confirmation for Provision of Consulting Service from DFID
The EELP addressed energetic, social, and economic constraints to Malawi's development by targeting inefficiency in both the public and private sectors. A central component of the project's implementation was the procurement, distribution, and direct home installation of 2 million high quality Compact Fluorescent Lamps (CFLs). Using DFID funding, our work on EELP allowed residents and small businesses to replace their incandescent bulbs with highly efficient CFLs at no cost. We also helped address the sustainability of program funding through the sales of CFLs at subsidized prices to the commercial sector. As the first large-scale CFL program to feature direct installation in the residential sector, EELP used a replicable model, and has been documented in the World Bank Institute's CFL Toolkit: https://www.esmap.org/CFLToolkit. The program's implementation work was augmented by the design of innovative policy and financing mechanisms which include Minimum Efficiency Performance Standards (MEPS) and a revolving fund that will ensure high-quality CFL standards and sustain funding for energy efficiency initiatives.

After surpassing initial project goals, the IIEC team was pleased to receive a letter of satisfactory completion from the DFID. The notice confirms project results of annual energy savings reaching as much as 62,611 MWh/year - enough to connect an additional 18,852 households and small businesses to the existing power grid.
It is estimated that constraints to energy efficiency in Malawi account for 4.4% of overall GDP and have acted as a continued limiting factor in national development. Reductions in peak demand, which are a direct result of the EELP's success promise to generate continued growth across Malawi, while helping to limit its emissions and save energy.
IIEC Models Energy Saving Potential for Energy Efficient Fans in Asia

IIEC conducted a comprehensive study and assessment of electric fan markets for the residential sector in South and Southeast Asia for the United Nations Environment Programme (UNEP). The main objective was to determine the potential electricity and CO2 emission savings by 2030 based on different scenarios such as Business as Usual (baseline), use of Best Available Technology and enforcing existing Standards and Labeling for electric fans in each respective country.
IIEC estimates a total annual market size for electric fans in the residential sector in South and Southeast Asia of approximately 80 to 100 million electric fans, which could reach 130 million units by 2030. The baseline electricity consumption was determined based on the current stock of electric fans in both regions and which will account for about 25 TWh in 2015 and 37 TWh in 2030 (see figure below).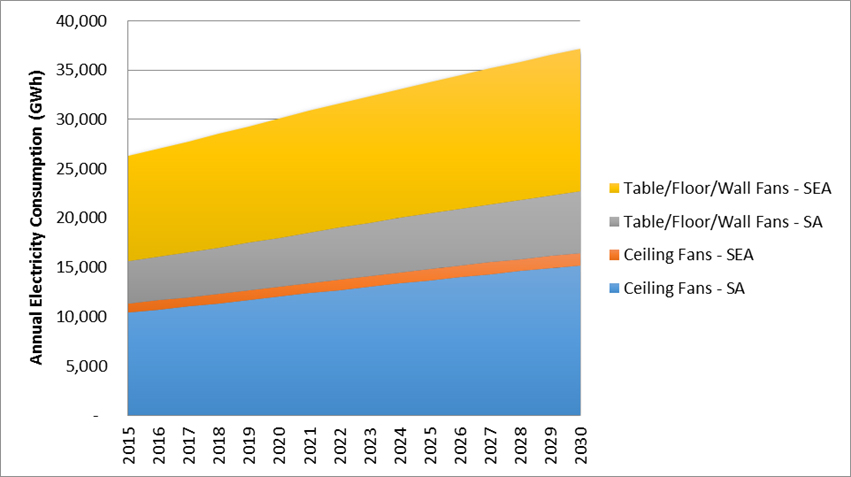 Annual Electricity Consumption Baseline from 2015 to 2030 for South Asia (SA) and
Southeast Asia (SEA) for Ceiling Fans and Table/Floor/Wall Fans
Accordingly, the study then assessed the potential cumulative energy and CO2 emission savings (%) by 2030 according to different scenarios and electric fan type, as highlighted below:
Ceilings Fans:
Best Available Technologies: 23% to 53%
Enforcement of existing S&L Scheme: 13%
Table/Floor/Wall Fans:
Best Available Technologies: 35%
Switching to Ceiling Fans in Southeast Asia: 7% to 26% depending on market penetration of ceiling fans
Enforcement of existing S&L Scheme: 19%
Harmonization and enforcement of best S&L scheme in the region: 25%
Overall, the modelling results show that enforcement and enhancement of existing S&L schemes for electric fans to be in line with best commercially available technologies could provide significant energy and CO2 savings in the region.
| | |
| --- | --- |
| For further information, please contact David Morgado - dmorgado@iiec.org | Back to Top |
Study on Sustainable Energy Production in Vietnam

IIEC is set to conduct a study on the market opportunities for financial institutions and service providers in the promotion of investments in sustainable production in the steel and chemical fertilizer industries in Vietnam. The study will be conducted under the project titled "Strengthening Capacity on Climate Change Initiatives in the Industry and Trade Sectors" (CCIT). The project is being implemented by the Government of Vietnam through the Ministry of Industry and Trade with funding from the UN One Plan Fund, the European Union/UNDP Low Emission Capacity Building programme and UNDP TRAC budget.
CCIT aims to remove barriers to the Vietnam industrial sector in the adoption of resource efficient processes and trade practices that will result to either GHG emission reduction, resilience to climate change, improvement in productivity and/or increase industry competiveness in both the national and international markets. For the market opportunity study, IIEC is tasked to review initiatives in sustainable industrial production in steel and chemical fertilizer sectors; identify market opportunities for industrial efficiency from the perspective of financial institutions and service providers; assess the policy and capacity building needs; develop financing solutions and identify pilot projects for the steel industry sector and chemical fertilizer sector.
| | |
| --- | --- |
| For further information, please contact Angelica Dealino - adealino@iiec.org | Back to Top |
Lao PDR to Develop an Energy Standards & Labelling Program

Facing energy shortage due to rapid economic growth, Lao PDR is taking a key step to tackle the energy supply shortage through demand side management. The Electricite du Laos (EdL), a state-own utility, is implementing the Demand-Side Management and Energy Efficiency (DSM/EE) Phase II project with financial support from the World Bank and contracting the IIEC as the project consultant.
The DSM/EE II project addresses key issues in all energy end-users: public, commercial, industrial, and residential sectors. The residential sector is a major energy consumer in Lao PDR with nearly 40% of the country energy consumption. High energy consumption in the residential sector is mainly due to the use of low energy efficient electric appliances. The lack of appliances standards puts consumers at risk in terms of both safety and quality of appliances. To address this issue, the DSM/EE II is developing a roadmap for implementation of standards and labelling for electric appliances in Lao PDR. The project has invited representatives from 5 ministries to form the national standards and labelling committee. The first task is to identify the appliances that will be piloted in the program. The project team has conducted a national appliance saturation survey during June - July 2014 covering 17 provinces and sampled a total of 1,000 households. The survey results show that major appliances are lights, televisions, fans, and refrigerators. Key findings from the survey will be analysed and incorporated into the Lao Energy Standards and Labelling Roadmap.

DSM/EE Project Team conducting the survey and raising
awareness about energy efficient lighting


Conducting interviews in Savannakhet
Auditing IFC Offices in South Africa and India

The IIEC was subcontracted to undertake energy audits of the International Finance Corporation's (IFC - World Bank Group) offices in Asia, Middle East and Africa. The project is part of IFC's effort to improve their Office's Energy Efficiency and Sustainability across the world.
IIEC recently conducted energy audits in Johannesburg (South Africa) and New Delhi (India) offices. Others offices under consideration include Dubai, Hong Kong and Jakarta and the project could be extended to other IFC and United Nations Development Program (UNDP) offices in the near future.
Overall, IIEC is responsible for carrying out walk-through audits or detailed energy audits depending on the requirements from the IFC office. This includes visits to the offices, inventory of equipment, undertaking on-site measurements, conducting a survey/questionnaire, and preparation of a final report identifying potential energy efficiency measures and undertaking a cost-benefit analysis. The IFC offices will then be responsible for selecting and implementing the measures specified in the report.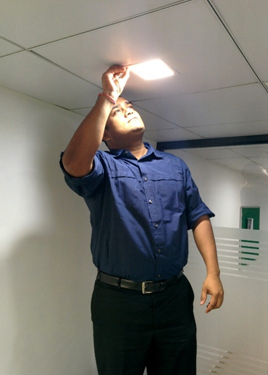 IIEC's Senior Energy Specialist, Ameya Udgaonkar, conducting an Energy Audit
at the IFC Johannesburg Offices
| | |
| --- | --- |
| For further information, please contact David Morgado - dmorgado@iiec.org | Back to Top |
PEEP2 Achievements Presented at Utility Conference in the Pacific

IIEC was invited to present lessons learnt to date in implementing the Asian Development Bank's (ADB) Promoting Energy Efficiency in the Pacific - Phase 2 (PEEP2) Project at the Pacific Power Association (PPA) 23rd Annual Conference and Engineer's Workshop on 8th July 2014 in Papeete, French Polynesia.
The aim of PEEP2 is to improve efficiency in the use of electrical power for consumers in the Cook Islands, Papua New Guinea (PNG), Samoa, Tonga, and Vanuatu - through demand-side energy efficiency improvements in the residential, commercial, and government sectors of each country.
The full day workshop, organized by the IIEC with support from the PPA included an overview and status of PEEP2, the benefits of energy efficiency in the Pacific Islands, energy efficient lighting programs, the Fridge-Freezer Replacement Program in the Cook Islands, field testing of AC technologies and energy efficiency in the hotels sector. The workshop was mainly attended by electric utility representatives and engineers from several Pacific Island Countries (PICs).

IIEC presents on lessons learnt from implementation of
PEEP2 project at PPA annual conference


Felix Goonerate, IIEC's CEO, providing lessons learned
and recommendations for continued project
implementation at the conference
<!-header2-->

IIEC Staff News

IIEC Welcomes New Staff Member to India Office
| | |
| --- | --- |
| Shresth Shrivastav has been engaged as Project Manager at IIEC New Delhi office. Prior to joining IIEC, he worked as Specialist in Policy and Green Buildings at Environmental Design Solutions for 2 years and at Emergent Ventures India (EVI) as a Consultant for 1.5 years. He was responsible for designing and implementing advanced analysis tools and frameworks for a variety of projects which include energy efficiency at national level, sustainable design of buildings, climate finance and sustainability risk assessment for investors. Additionally, he worked closely with corporates in implementing sustainability tools such as GHG management, waste and water audits, and sustainability reporting under the GRI framework. He also facilitates green building certification for corporations, where he specializes in certification of existing buildings. He holds a Bachelors of Science in Bio-Medical Engineering from the Georgia Institute of Technology, USA (Highest Honors). | |
| | |
| --- | --- |
| | Back to Top |
About IIEC
The International Institute for Energy Conservation (IIEC) was established in 1984 as a non-governmental (NGO), not-for-profit organization, in order to foster the implementation of energy efficiency in developing countries and countries in transition. IIEC's mission is to accelerate the global adoption of energy efficiency, transport and environmental policies, technologies and best practices to enable sustainable economic and environmental development.
For the past 30 years, IIEC has been providing solutions to the problems posed by the rapid increase of energy demand in developing and industrializing countries. IIEC has an established niche as a provider of novel solutions with the flexibility to work simultaneously with multilateral institutions, governments, academic and research institutes, industry and non-governmental organizations.

If you do not wish to receive IIEC E-Notes, please reply to e-notes@iiec.org with the word "UNSUBSCRIBE" in the subject line.
| | | |
| --- | --- | --- |
| | Partners for Sustainable Energy and Environmental Solutions | |

Head Office :
Asia Regional Office :
Country Offices :
USA

Tel: +1 703 464 0561
Fax: +1 703 689 4427
e-mail: iiecdc@iiec.org
Thailand

Tel: +66 2 662 3460-4
Fax: +66 2 261 8615
e-mail: iiecbangkok@iiec.org
India

Delhi
Tel: +91 11 4182 8216/17
Mumbai
Tel: +91 99308 08689
e-mail: iiecindia@iiec.org
Philippines

Tel: +632 426 8567
Fax: +632 426 8566
e-mail: iiecmanila@iiec.org

Copyright © 2014

International Institute for Energy Conservation

, All Rights Reserved.