| | |
| --- | --- |
| Newsletter of the International Institute for Energy Conservation (IIEC) | February 2013 |
| | |
| --- | --- |
| Highlights in this issue | |
Implementation and Dissemination of Energy Efficiency Measures
in the Philippines

The Philippine Energy Efficiency Project (PEEP) is being implemented by the Philippine Government through the Philippine Department of Energy (DOE) with funding from the Asian Development Bank. IIEC is providing technical implementation support in all the components of the project. By December 2012, the implementation and completion of project components described below resulted in an estimated annual energy savings of 310 GWh.
Under the PEEP, 35 government buildings in Metro Manila were retrofitted by replacing T40/T36 fluorescent tube lights using magnetic ballast with the more efficient T5 fluorescent tube lights using electronic ballast.
For the residential sector, a total 8.6 million Compact Fluorescent Lamps (CFLs) were successfully distributed nationwide (see photographs below). The distribution of the first lot was done through major distribution utilities, electric cooperatives and civil society group. The second lot was simultaneously distributed through the congressional districts and the government agency for social welfare and development.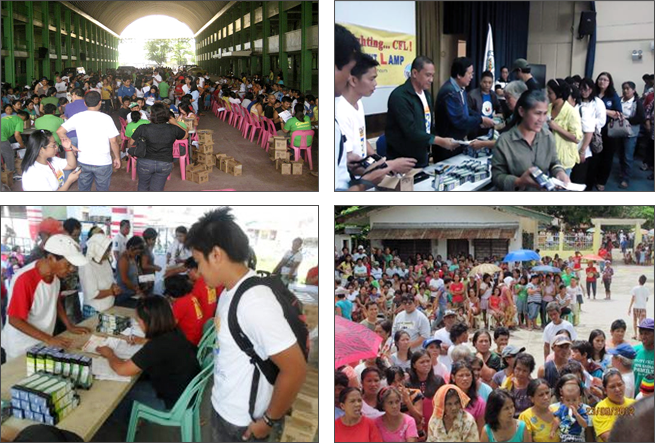 Nationwide Simultaneous CFL Distribution
In addition, in urban areas, the PEEP carried out retrofitting of selected park lights and street lights in the cities of Baguio located in Northern Luzon and Cagayan de Oro in Mindanao. A total of 159 traffic intersections in Metro Manila were retrofitted with LED traffic lights enabling a significant reduction in energy costs for the city councils. In rural areas, the PEEP delivered and installed Light-Emitting Diode (LED) solar home systems in 223 households located in off-grid areas in the Philippines, as shown in the photographs below.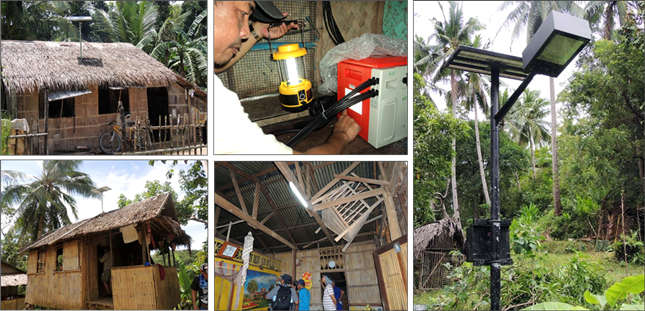 LED Solar Home Systems in Off Grid Areas
To effectively generate public awareness and participation in PEEP projects, a communication campaign and dissemination program is being implemented, not only to highlight the benefits of energy efficient lighting systems but to ensure energy efficiency practices in everyday life. The project team conducted mass media campaigns including the development, production, and placements of TV (available online - Link 1 and Link 2), radio, and print advertisements. IIEC provided support in the design of promotional materials such as posters and banners used for public awareness (see examples below). IIEC also provided support in the design of educational modules and meta-charts for distribution to public high schools. As part of the public awareness campaign and the development and upgrading of the Green Building Rating System, the PEEP in cooperation with the Philippine Green Building Council (PHILGBC), is conducting a series of stakeholder workshops and study groups.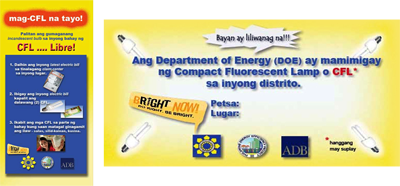 External Posters and Banners Designed by IIEC to Raise Public Awareness on CFLs
| | |
| --- | --- |
| For further information, please contact Angelica Dealino - adealino@iiec.org | Back to Top |
IIEC Implements Energy Efficiency Projects in the Cook Islands

IIEC will be implementing three energy efficiency projects in the Cook Islands under the Promoting Energy Efficiency in The Pacific: Phase 2 (PEEP2) funded by the Asian Development Bank (ADB). The IIEC is the PEEP2 Technical Assistance Consultant and is tasked in improving efficiency in the use of electrical power for consumers in the Cook Islands, Papua New Guinea (PNG), Samoa, Tonga, and Vanuatu - through demand-side energy efficiency improvements in the residential, commercial, and government sectors of each country.
Two energy efficiency projects comprise of the supply and installation of solar LED lighting for the International Airport Car Park and in the Punanga Nui Market in Rarotonga, Cook Islands.

The third project comprises of a fridge/freezer replacement program (FFRP) at national level, with the objective of replacing old inefficient fridge/freezers with high efficient fridge/freezers. Under the FFRP, retailers will offer an attractive rebate at the moment of purchase (NZ$200 – NZ$500) depending on fridge/freezer volume. The retailer will then be reimbursed for the rebates on a monthly basis.

IIEC estimates that the Airport Car Park project will provide cost savings of US$4,900/year and CO2 savings of 6.7 tons of CO2/year. The Punanga Nui Market project will provide identical savings. For the FFRP, IIEC estimates average cost savings of US$188/year/consumer. Assuming the replacement of 300 inefficient fridge/freezers, the FFRP would provide approximately 83,280 kWh/year in electricity savings and a CO2 abatement of 66.4 tons of CO2/year. In addition, the FFRP will enable considerable cost savings to householders resulting in higher disposal income.

Airport Car Park in Rarotonga,
Cook Islands
These three projects are the first of several energy efficiency projects being prepared and implemented under PEEP2 in the five Pacific island countries.
Walk-Through Energy Audit Training in Samoa and
Papua New Guinea

As part of the Promoting Energy Efficiency in the Pacific (PEEP2) project mentioned above, the IIEC conducted two/three days of walk-through energy audit training for selected buildings in Samoa and Papua New Guinea (PNG) during October 2012. Approximately 30 people participated in the training activities in Samoa and 20 people participated in PNG (see photographs below). The PEEP2 team was also interviewed by the local newspaper in Samoa.
These preliminary audits aim to identify the main building areas with most potential for energy savings as well as simple cost-effective measures (i.e. lighting) that could be implemented in a short-timeframe. It will also help provide useful data for the PEEP2 Energy-Use Database and identify potential energy efficiency projects in Samoa.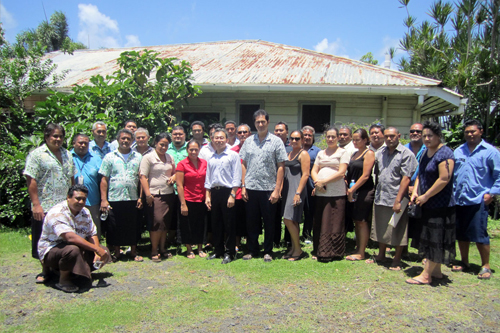 Participants of PEEP2 Walk-Through Energy Audit Training in Samoa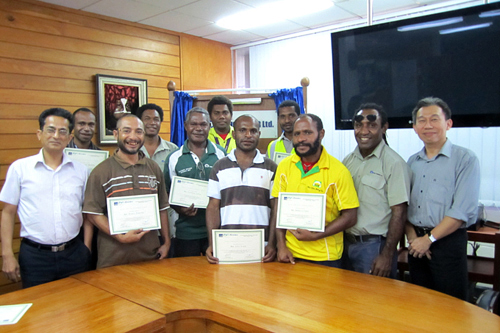 PNG Power Limited (PPL) Participants of PEEP2 Walk-Through Energy Audit Training in PNG
IIEC Awarded S&L Training Project in Kenya

The IIEC was recently awarded a project for the "Preparation and Delivery of Training for Energy Standards and Labels" in Kenya. The project is funded by the United Nations Development Programme (UNDP) with the support from the Ministry of Industrialization in Kenya. This project is part of the on-going national Standards and Labelling (S&L) Programme, which is a 5 year initiative designed to remove barriers to market transformation of energy efficient products and services in Kenya with replication effect to 4 other East African Community (EAC) countries of Burundi, Rwanda, Tanzania and Uganda.
IIEC is tasked to prepare and deliver a training programme to a wide range of key stakeholders of the S&L Programme covering a number of selected appliances in Kenya. These stakeholders include the Kenya Bureau of Standards (KEBS), Kenya Revenue Authority (KRA), Ministry of Energy (MoE), Energy Regulatory Commission (ERC), Kenya Anti-Counterfeit Agency (ACA) and the National Environment Management Authority (NEMA). The appliances selected for intervention under the S&L Programme and to be covered under IIEC's training program include:
Industrial AC Motors
Domestic and Commercial Refrigerators
Air Conditioners
Compact Fluorescent Lamps (CFLs)
For further information, please contact David Morgado - dmorgado@iiec.org
Back to Top
IIEC to Design a Standard Offer Program in India

IIEC has been awarded a grant by the Climateworks Foundation (Shakti Foundation in India) to design an ambitious standard offer program (SOP) in India. As compared to conventional demand side management (DSM) programs, a standard offer program enables utilities to "purchase energy savings as a resource." In contrast to other demand acquisition programs designed by IIEC, including DSM program bidding, the SOP allows the utility to specify a purchase price structure a-priori for delivery of energy saved. IIEC is completing the first task of reviewing experience in design and implementation of standard offer programs from other countries including the U.S., South Africa, and Portugal. In order to facilitate the development of a specific SOP at a state level, IIEC is obtaining information on the commercial and industrial (C&I) sector where the near term potential for implementation appears to be promising. Using market segmentation of the C&I sector, especially in lighting, HVAC, and motor driven system applications, IIEC will be working with stakeholders to develop a design of an SOP at a state level, and guidance for other states to follow.
For further information, please contact Nitin Pandit - npandit@iiec.org
Back to Top
IIEC Concludes S&L Study in 17 Pacific Island Countries and Territories

The IIEC recently completed its report on the Technical Analysis of Appliance Markets to Support the Pacific Labelling and Standards (PALS) Programme. The objective was to analyse the characteristics of major appliance and lighting products and markets, in order to support decision making of most effective S&L strategy for each Pacific Island Countries and Territories (PICTs). The report was commissioned by the Renewable Energy and Energy Efficiency Partnership (REEEP) and the analysis covers a total of 17 PICTs. It was carried out in coordination with the PALS implemented by the Secretariat for the Pacific Community (SPC) and funded by the Australian Government.
The Figure below summarizes the key findings and the main sources of electrical appliances in each PICTs based on customs data and market surveys conducted under this project.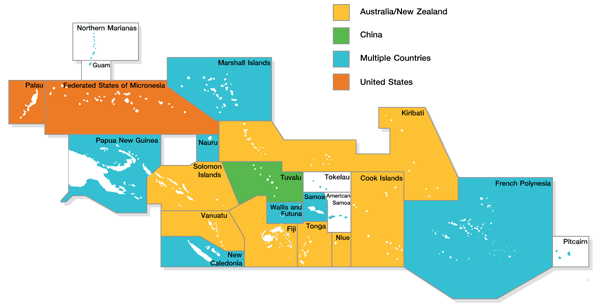 Map with Indication of Main Country of Origin of Electrical Appliances for each PICTs based on Survey of Retailer/Wholesalers and Customs Data in each PICTs
Other key findings from the report include:
Growing number of electrical appliances originating from Asia (i.e. China and Singapore).
Need to improve customs data to differentiate between linear and compact fluorescent lamps (CFLs).
Each customs department/office has a different interpretation of the international harmonized systems codes for electrical appliances. E.g. Only 5 out of 17 PICTs (29%) had customs data on television imports.
The report also highlights key challenges faced by the project team:
Limited customs data available/provided from Marshall Islands, Nauru and Niue.
General lack of statistical data in the Pacific region and in each PICTs.
The majority of PICTs have limited resources and capacity to compile import data on any kind of electrical appliance.
The main report is available on the REEEP website - http://www.reeep.org/news/reeep-commissioned-report-sets-sl-baseline-pacific-island-countries
| | |
| --- | --- |
| For further information, please contact David Morgado - dmorgado@iiec.org | Back to Top |
About IIEC


The International Institute for Energy Conservation (IIEC) was established in 1984 as a non-governmental (NGO), not-for-profit organization, in order to foster the implementation of energy efficiency in developing countries and countries in transition. IIEC's mission is to accelerate the global adoption of energy efficiency, transport and environmental policies, technologies and best practices to enable sustainable economic and environmental development.
For the past 28 years, IIEC has been providing solutions to the problems posed by the rapid increase of energy demand in developing and industrializing countries. IIEC has an established niche as a provider of novel solutions with the flexibility to work simultaneously with multilateral institutions, governments, academic and research institutes, industry and non-governmental organizations.

If you do not wish to receive IIEC E-Notes, please reply to e-notes@iiec.org with the word "UNSUBSCRIBE" in the subject line.
| | | |
| --- | --- | --- |
| | Partners for Sustainable Energy and Environmental Solutions | |

Head Office :
Asia Regional Office :

Country Offices :

USA

Tel: +1 703 281 7263
Fax: +1 703 938 5153
e-mail: iiecdc@iiec.org
Thailand

Tel: +66 2 662 3460-4
Fax: +66 2 261 8615
e-mail: iiecbangkok@iiec.org
India

Tel: +91 20 6410 2557-58

e-mail: iiecindia@iiec.org
Philippines

Tel: +632 426 8567/426 6001 loc 4833
Fax: +632 426 8566
e-mail: iiecmanila@iiec.org

Copyright © 2013

International Institute for Energy Conservation

, All Rights Reserved.