| | |
| --- | --- |
| Newsletter of the International Institute for Energy Conservation (IIEC) | June 2013 |
| | |
| --- | --- |
| Highlights in this issue | |


Fridge and Freezer Replacement Program Launched in the Cook Islands

The International Institute for Energy Conservation (IIEC) is the Technical Assistance Consultant for the Promoting Energy Efficiency in The Pacific: Phase 2 (PEEP2) funded by the Asian Development Bank (ADB). The aim of PEEP2 is to improve efficiency in the use of electrical power for consumers in the Cook Islands, Papua New Guinea (PNG), Samoa, Tonga, and Vanuatu - through demand-side energy efficiency improvements in the residential, commercial, and government sectors of each country.
The PEEP2 project commenced in November 2011 and following a series of activities covering energy data collection and assessment including energy audits of public buildings and residential energy surveys, IIEC has initiated the implementation of energy efficiency projects in all five countries. By May 2013, a total of 15 projects had been approved by ADB worth more than 1.2 million USD.
One of the projects approved is the Fridge Freezer Replacement Program (FFRP) in the Cook Islands. The objective of the FFRP is to replace old inefficient fridge/freezers with high efficient fridge/freezers and reduce electricity consumption by approximately 20-30% per participating household.
The program was formally launched on the 1st May 2013 following the signing of a Memorandum of Understanding (MOU) between the ADB, the Government of the Cook Islands, and white goods retailers - Motor Centre and the Cook Islands Trading Corporation Ltd. (see photograph below)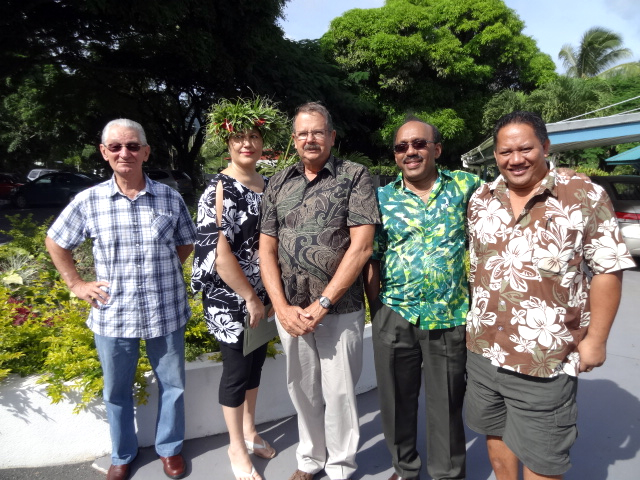 MoU Signing (left to right) – Don Dorrell (Managing Director of Motor Centre), Dianna Clarke Bates (Executive Director of Cook Islands Trading Corporation), Roger de Bray (Energy Commissioner), Felix Gooneratne (IIEC) and Tangi Tereapii (Renewable Energy Development Division of the Office of the Prime Minister)
Under the program, the retailers offer rebates between NZ$150 and NZ$500 to customers purchasing selected high efficient fridge/freezer models, in exchange for their old, working low efficient fridge/freezer of similar capacity. IIEC also provided training to retailer staff regarding the FFRP requirements and energy labeling of electrical appliances.
Overall, the FFRP aims to cover 325 households over a one year period, with the possibility of being further extended depending on successful uptake. After only one month of implementation, at least 30 units had been sold under the FFRP by the 1st June 2013.
For further information on the FFRP and other PEEP2 energy efficiency projects, please visit http://www.ee-pacific.net or contact Felix Gooneratne - fgooneratne@iiec.org
| | |
| --- | --- |
| | Back to Top |
IIEC Provides Training to Kenyan Government Stakeholders on S&L

On May 2013, the IIEC delivered a two-day training on Standards and Labeling (S&L) to policymakers in Kenya as part of the on-going national Standards and Labelling Programme, which is a 5 year initiative designed to remove barriers to market transformation of energy efficient products and services in Kenya. The program is funded by the United Nations Development Programme (UNDP) with the support from the Ministry of Industrialization in Kenya.
The training covered a range of relevant topics including the status of S&L in Kenya, S&L policy and international experience and the basics steps for S&L implementation as well as energy performance of electrical appliances focusing on three-phase induction motors, domestic and commercial refrigerators, air conditioners and fluorescent lamps. The training also included a visit to the Samsung Engineering Academy and retailer shops to carry out appliance audit exercises and further understand the different components of each appliance.
The attendees included members from the Kenya Bureau of Standards (KEBS), Kenya Revenue Authority (KRA), Ministry of Energy (MoE), Energy Regulatory Commission (ERC), Kenya Anti-Counterfeit Agency (ACA) and the National Environment Management Authority (NEMA).
IIEC is currently preparing a two-day technical training exclusively for S&L implementers for the end of June 2013.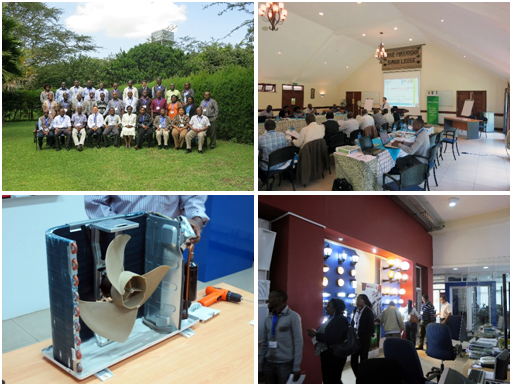 Attendees of the S&L Training delivered by IIEC (above), explaining how the AC works at
the Samsung Engineering Academy (bottom left) and visit to retailer shop (bottom right).
For further information, please contact David Morgado - dmorgado@iiec.org
| | |
| --- | --- |
| | Back to Top |
Stakeholder Engagement Workshop on Standard Offer Programme in India

The IIEC and Renewable Energy Agency of Puducherry (REAP) jointly organized a workshop on "Standard Offer: A programmatic approach for utilizing energy efficiency as a resource" on 12th April 2013 in Puducherry, India, as part of the Standard Offer Programme (SOP) – funded by the Shakti Sustainable Energy Foundation. The workshop presented preliminary analysis of various energy efficiency interventions that could be scaled up through a standard offer program, leading to the objective of eliciting the participation and support of the state agencies in the program.
The Chief Guest for the workshop was Mr.T. Thiagarajan, Honorable Minister of Puducherry for Environment, Power and Science and Technology. Other dignitaries were Mr. Pankaj Kumar Jha, Managing Director of REAP; and Chief Engineer from the Electricity Department of Puducherry. Dr. Nitin Pandit, President of IIEC introduced the topic of the Workshop and Mr. Chinmaya Acharya, Chief of Programmes of Shakti Foundation provided overview of the Foundation's activities.
About 60 representatives attended the workshop from the hotel industry, construction business, Confederation of Indian Industry (CII), Public Works Department (PWD), Electricity Department, REAP officers and Puducherry Municipal Corporation.
The workshop concluded after the Question & Answer session and comments from Mr. Pankaj Kumar Jha. He assured full cooperation in setting up an SOP in Puducherry. He said that 8,000 streetlights in Puducherry account for an energy bill of about Rs. 1.5 crores (US$ 0.3 Million), and this sector alone had good scope for energy conservation. He also mentioned that Puducherry is planning to set up an 'Green Energy Fund' by levying access on the electricity tariff and utilize the accumulated funds potentially through an SOP for promotion of energy efficiency and renewable energy in the Union Territory of Puducherry.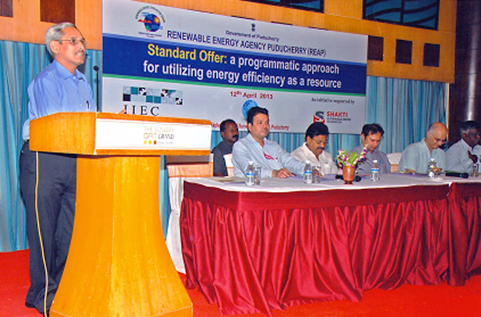 Anil Kumar (IIEC) Provided an Introduction of Standard Offer Programme in the Workshop,
held on April12, 2013, in Puducherry, India
For further information, please contact Nitin Pandit - npandit@iiec.org
Back to Top
New Database for Climate Change Knowledge Sharing in ASEAN
The ASEAN Climate Change Action Database (ACCAD) - http://accad.sean-cc.org - was recently launched as part of the Southeast Asia Knowledge Network of Climate Change Offices (SEAN-CC)s knowledge sharing activities, funded by the United Nations Environment Programme (UNEP).

The ACCAD aims to facilitate knowledge sharing and exchange experiences and best practices among key stakeholders pertaining to climate change (CC) actions in the Association of Southeast Asian Nations (ASEAN) region such as policies & programmes, projects/ activities, resources and CC related technologies in order to support the integrated analysis and development of framework policies for low emissions and CC resilient communities in the region.

The ACCAD was designed and developed by IIEC based on survey and needs assessment of key CC stakeholders in the region, review of existing climate CC websites and databases as well as comprehensive compilation of CC information undertaken with the support of ASEAN country governments and national CC consultants.


The ACCAD System : accad.sean-cc.org
The project team encourages CC professionals to share and exchange experiences of running projects/ activities, best practices in policy and technology by using ACCAD as a centralized network sharing in the ASEAN region.
IIEC Invited to Share Experience in Energy Efficiency Projects in China

Dr. Nitin Pandit, President of IIEC, and B. Anil Kumar, Senior Consultant of IIEC-India, were invited to the Global Topten Workshop, held in Beijing, China, on April 17-18, 2013. The third Topten workshop was organized after the last two in Zurich (2011) and Washington DC. (2012) for Topten members to share what they have achieved in last year and exchange knowledge and experiences. The Global meeting was attended by the entire Topten Family members from Europe, France, Switzerland, Latin America, and USA besides the hosts Top10 China.
Besides sharing the results of the Feasibilty Study on Topten India and other energy efficiency project experiences of IIEC, Dr. Nitin Pandit made a presentation on the Role of Foundations for Financing Sustainable Energy Programs. While, Anil Kumar spoke during a Special Session on the BAT (Best Available Technology) strategy for developing countries.
The IIEC team had the opportunity to interact with Senior Government Officials and other stakeholders in the energy efficiency community in China at a grand reception hosted by the Ambassador of Switzerland to China.


Group Photo taken with Topten Members from Europe, United States, Latin America, India and China (Credit: Photo by Top10 China)
About TopTen:
TopTen (www.topten.info) is an information system and database for promotion of energy efficient consumer goods (appliances, electronics, building components, motor vehicles). It stimulates consumer demand and influences government policy, healthy competition amongst manufacturers, would trigger new energy efficient product development and retailers sales program. Its goal is to speed up and focus the market transformation for energy efficient consumer goods. TopTen exists as a web based information platform in several countries in Europe, China and the USA.
| | |
| --- | --- |
| For further information, please contact Anil Kumar - akumar@iiec.org | Back to Top |
Launch of New Energy Efficiency Website for the Pacific

The IIEC, under the Promoting Energy Efficiency in the Pacific: Phase 2 (PEEP2), funded by the Asian Development Bank (ADB), has launched a website - www.ee-pacific.net - to provide information on energy efficiency best practices, case studies and showcase project activities on demand-side energy efficiency in residential, commercial, and government sectors in the Pacific. The IIEC is the technical assistant consultant for PEEP2 and is responsible for the website design and development.
The PEEP2 website is also a research and dissemination resource on energy efficiency for five Pacific Developing Member Countries (PDMCs) – the Cook Islands, Papua New Guinea (PNG), Samoa, Tonga, and Vanuatu - with an emphasis on improved energy efficiency in new and existing buildings, which account for a high percentage of electricity end-use in all five PDMCs.
The website contains information on training events and news articles and visitors can also find out about:
What PEEP2 is doing to improve energy efficiency in the five PDMCs
Access "Country Information & Database" - provides an overview of the energy sector in each country with an accessible database on energy use by building sector
Download resources e.g. reports and presentations via "Publications"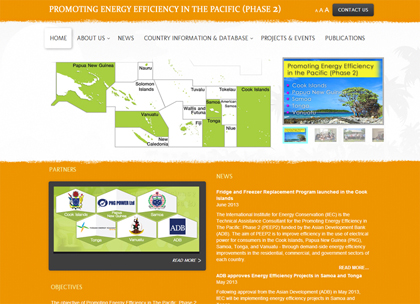 The PEEP2 Website : www.ee-pacific.net
For further information on the PEEP2 energy efficiency projects, please contact David Morgado - dmorgado@iiec.org
| | |
| --- | --- |
| | Back to Top |
Workshop on the Development of State Clean Energy Fund Roadmap for Karnataka

The "Stakeholder Workshop to Discuss State Clean Energy Fund (SCEFs) Roadmap", organized by IIEC, was held on March 15, 2013 at Hotel Le Meridien in Bangalore, as part of project funded by the UK Foreign & Commonwealth Office (UK-FCO), to present and discuss the Draft Roadmap of the Karnataka Clean Energy Fund. The workshop aimed to provide the rationale for the Karnataka State Clean Energy Fund, its initiation, project pipelines and roll-out plan. The workshop included the following key points for discussion:
Why Clean Energy Funds?
Lessons from International Experiences on Clean Energy Funds
Lessons from National Experiences on Clean Energy Funds
Legal Mandate for setting up of Clean Energy Funds
Proposed SCEF Fund Structure
Next Steps
The workshop was attended by the Chairman of Karnataka Electricity Regulatory Commission (KERC), Dr. M. R. Srinivasa Murthy, and other Senior Officials of the Commission, as well as the Principal Secretary Energy Department of the Government of Karnataka, Mr. S. K. Pattnaik, Officers of Karnataka Renewable Energy Development Limited (KREDL) and State Utilities, NGOs, Academic and R&D organisations and Senior Representatives of UK-FCO.
| | |
| --- | --- |
| For further information, please contact Nitin Pandit - npandit@iiec.org | Back to Top |
About IIEC


The International Institute for Energy Conservation (IIEC) was established in 1984 as a non-governmental (NGO), not-for-profit organization, in order to foster the implementation of energy efficiency in developing countries and countries in transition. IIEC's mission is to accelerate the global adoption of energy efficiency, transport and environmental policies, technologies and best practices to enable sustainable economic and environmental development.
For the past 29 years, IIEC has been providing solutions to the problems posed by the rapid increase of energy demand in developing and industrializing countries. IIEC has an established niche as a provider of novel solutions with the flexibility to work simultaneously with multilateral institutions, governments, academic and research institutes, industry and non-governmental organizations.

If you do not wish to receive IIEC E-Notes, please reply to e-notes@iiec.org with the word "UNSUBSCRIBE" in the subject line.
| | | |
| --- | --- | --- |
| | Partners for Sustainable Energy and Environmental Solutions | |

Head Office :
Asia Regional Office :

Country Offices :

USA

Tel: +1 703 281 7263
Fax: +1 703 938 5153
e-mail: iiecdc@iiec.org
Thailand

Tel: +66 2 662 3460-4
Fax: +66 2 261 8615
e-mail: iiecbangkok@iiec.org
India

Tel: +91 20 6410 2557-58

e-mail: iiecindia@iiec.org
Philippines

Tel: +632 426 8567/426 6001 loc 4833
Fax: +632 426 8566
e-mail: iiecmanila@iiec.org

Copyright © 2013

International Institute for Energy Conservation

, All Rights Reserved.