| | |
| --- | --- |
| Highlights in this issue : | |
<!-header1-->

Successful Outcomes from Pacific Energy Efficiency Project




In June 2015, IIEC completed the ADB sponsored project Promoting Energy Efficiency in the Pacific – Phase 2 (PEEP2). The project, which was launched in 2011, focused on reducing energy consumption in the residential, commercial and public sectors of five Pacific Developing Member Countries (PDMCs) – Papua New Guinea, Vanuatu, Tonga, Samoa and the Cook Islands – by establishing energy efficiency targets, putting in place policy and implementation frameworks, and implementing a variety of energy efficiency measures in these sectors.
The key achievements of PEEP2 included the implementation of 34 energy efficiency projects following ADB procurement guidelines. With a total investment by ADB of more than US$1.9 million, these projects have resulted in energy annual savings of 3,411 MWh, annual cost savings of $1,458,922, and CO2 savings of 3,204 tons/year. The cost of saved energy across these projects was low (e.g., an average of 6 cents/kWh in Samoa); comparing this cost with the electricity tariffs in the PDMCs – which range between 29 and 61 cents/kWh – demonstrates the economic attractiveness of these energy efficiency measures.
Project outcomes also included:
Development of an energy use database to provide access to information on electricity consumption and energy efficiency indicators at national and end-use sector levels.
Development of national energy efficiency targets for the five PDMCs based on energy consumption and end-use energy savings projections for three policy scenarios–conservative, moderate and aggressive–for the years 2020, 2025 and 2030.
Development of guidelines to support energy efficiency best practices, including an Energy Efficiency Technology Assessment; International Best Practices for Energy Efficiency Building Codes; a Green Hotels Rating Scheme for the Pacific; a Green Commercial Buildings Rating Scheme for the Pacific Energy Efficiency Assessment Guidelines, Framework and Scorecard; and Energy Efficiency Guidelines for Hotels, Commercial Buildings and Street Lighting.
Conduct of a comprehensive energy audit training in all five PDMCs, which included intermediate and advanced energy auditing, practical on-site training and preparation of Investment Grade Audit Reports.
Preparation of a series of "Energy Saving tips" for printing on the back of electricity bills and "Home Energy Guides" providing information on electricity costs for common electrical appliances (both efficient and inefficient) customized to each PDMC.
Many of the guidelines, templates and implementation models developed under PEEP2 would be suitable for scaling up energy efficiency implementation throughout the Pacific region.
At the end of the project, a Regional Energy Efficiency Workshop was conducted in Apia, Samoa to disseminate the lessons learnt during the second phase of Promoting Energy Efficiency in the Pacific (PEEP-2). More than 100 delegates – comprising stakeholders from all of the Pacific Island Countries (PICs) and many international donor agencies–attended the workshop. The inaugural address was given by the Samoan Prime Minister, the Honourable Tuilaepa Fatialofa Lupesoliai Malielegaoi. The outcome of the workshop was the formulation of policy recommendations for the future acceleration of energy efficiency practices in the Pacific Region.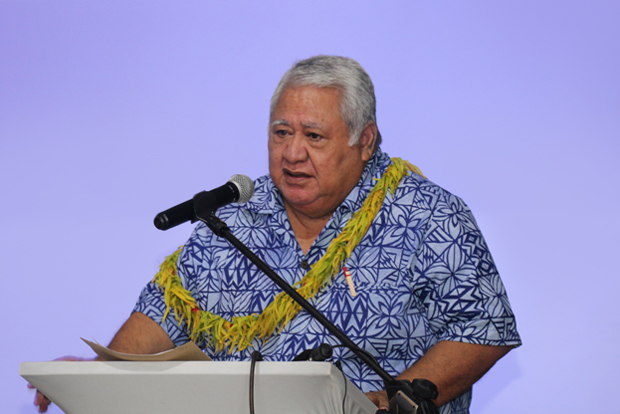 The Honorable Tuilaepa Fatialofa Lupesoliai Malielegaoi, Prime Minister of Samoa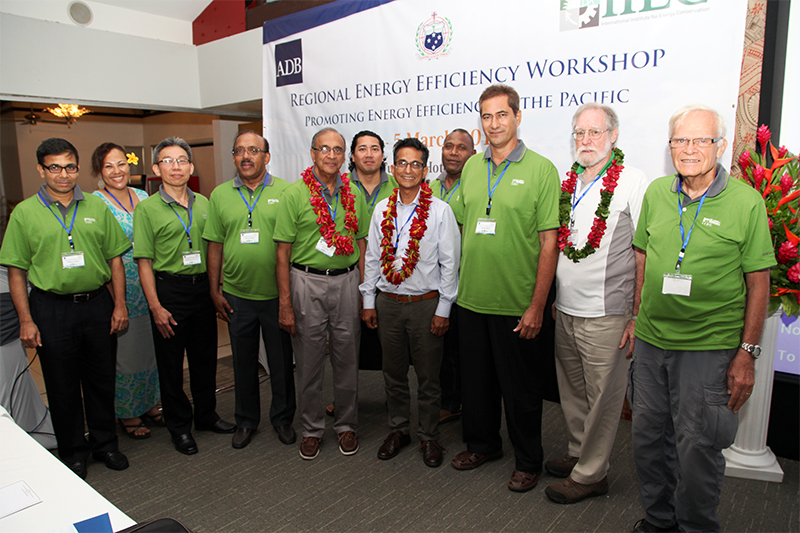 IIEC project team at the Regional Energy Efficiency Workshop
Study on the Market Opportunities in Vietnam for Financial Institutions and Service Providers in Sustainable Industrial Production

The IIEC Philippines Office completed a study that will help promote investments in sustainable production in the steel and chemical fertilizer industries in Vietnam. The study, carried out under the project titled "Strengthening Capacity on Climate Change Initiatives in the Industry and Trade Sectors" (CCIT), assessed market opportunities in Vietnam from the perspective of financial institutions and service providers.
CCIT is being implemented by the Government of Vietnam through the Ministry of Industry and Trade (MOIT) with funding from the United Nations Development Programme (UNDP). It aims to remove barriers to the adoption of resource efficient processes and trade practices in Vietnam's industrial sector in order to reduce GHG emissions, increase resilience to climate change, improve productivity, and/or increase industry competiveness in both the national and international markets.
For the market opportunity study, IIEC reviewed sustainable industrial production initiatives in the steel and chemical fertilizer sectors; identified market opportunities for industrial efficiency from the perspective of financial institutions and service providers; assessed policy and capacity building needs; and developed financing solutions and identified pilot projects for the steel industry sector and chemical fertilizer sector.


Consultation meetings with financial institutions and energy service companies
| | |
| --- | --- |
| For further information, please contact Angelica Dealino - adealino@iiec.org | Back to Top |
Nationally Appropriate Mitigation Action (NAMA) for the Construction Sector in Mongolia

IIEC completed a project to provide advisory services on Climate Finance in Mongolia. The project focused on the development of a medium-size building project to be implemented over a period of 40 months with the support of the United Nations Development Programme (UNDP) and the Global Environment Facility (GEF). IIEC's key activities included:
Conducting a review of the financial options available to support scaled-up climate change mitigation actions and energy efficient technology applications in Mongolia's buildings/construction sector. The review covered:
International best practices for financing climate change mitigation actions that are applicable to Mongolia's political, socioeconomic and environmental context, including green building standards, and green premium and investment needs; and
Past, ongoing and anticipated relevant financial options with details of technical and financial support programmes, funding sources, budgets and key lessons.
Proposing feasible options for financial mechanism(s) to support the implementation of scaled-up mitigation action/NAMAs in the construction/buildings sector in Mongolia. The options addressed capital requirements and potential funding sources, design elements, institutional arrangements, and stakeholders engagement plans.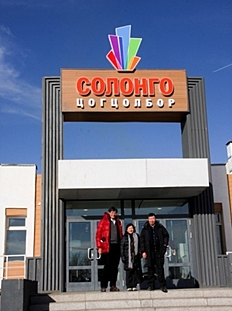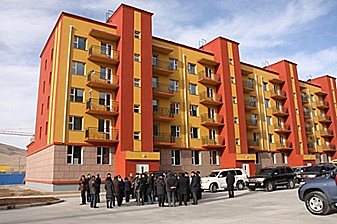 Occular inspection of newly constructed residential buildings outside Ulaanbataar City to assess feasible options
to support implementation of scaled up mitigation action/NAMAs in the construction/buildings sector in Mongolia.
Developing a financial plan to support the detailed design of the construction sector NAMA and monitoring, reporting, and verification (MRV) framework.
Formulating a project plan comprising outputs, activities, indicators, and a budget that will be supported through UNDP/GEF assistance.
Preparing Terms of Reference for financial experts required during project implementation.
| | |
| --- | --- |
| For further information, please contact Angelica Dealino - adealino@iiec.org | Back to Top |
Climate Change Mitigation & Adaptation Program Implementation Support in India

With funding support from UNDP, IIEC is assisting the State Governments of Jharkhand and Manipur in India in fast-tracking the implementation of key strategies under their State Action Plans on Climate Change (SAPCCs). IIEC is providing technical assistance to the states in the preparation of detailed project proposals for specific mitigation and adaptation projects under the SAPCCs. The State Nodal Agencies are expected to submit these proposals to funding sources such as the Green Climate Fund, National Clean Energy Fund, and National Adaptation Fund. Additional project objectives include building the capacity of the State Nodal Agencies to prepare bankable project proposals and developing partnerships with international agencies to promote knowledge exchange.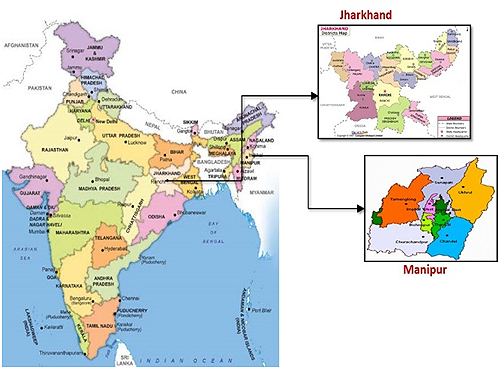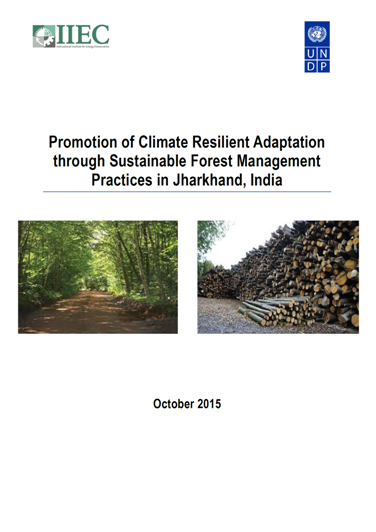 The IIEC project team is supporting the State Governments of Jharkhand and Manipur in India to stimulate climate resilient investments and form a partnership for knowledge exchange and collaboration action with international agencies
With funding support from the British High Commission, IIEC in partnership with Ricardo-AEA is also implementing a project in India to design pilot programs using solar PV mini grids to achieve remote village electrification. The project will provide India's Ministry of New and Renewable Energy (MNRE) with policy and regulatory recommendations for enabling accelerated growth in the rural electrification sector by providing a level playing field for international supply chains to enter the market.
| | |
| --- | --- |
| In partnership with Carbon Trust UK, IIEC is implementing a project in India to help secure financial support from the National Clean Energy Fund (NCEF) for initiatives that will enhance innovation in and deployment of energy efficiency in India. Project activities include characterizing initiatives that would qualify for support, and assessing their potential impact and the institutional capacity and other resources needed to deliver them. The project is steered by a high-level Advisory Board with research and analysis provided by the Carbon Trust and funding from the UK Foreign Office Prosperity Fund. IIEC is providing local insights and on-the-ground support to ensure engagement of key stakeholders. The project was kicked off in mid-June 2015 and aims to be completed by the end of January 2016. | |
With deployable resources of more than INR 100 billion, the NCEF has the the ability to fund interventions that could have a substantial impact in India. This is the first activity that NCEF has funded to promote innovation in or deployment of energy efficiency-related technologies – hopefully just the first step toward becoming a game changer in this sector.
| | |
| --- | --- |
| For further information, please contact Sanjay Dube - sdube@iiec.org | Back to Top |
About IIEC
The IIEC was founded in 1984 to dramatically increase the use of energy efficiency as an important clean energy approach in developing countries. We believe local presence is the best way to bring about results, and through our regional offices all over the world, we have been effective in bringing about progress in energy efficiency policy and implementation that has both reduced energy consumption by thousands of MWs and fostered economic development in the countries we serve. The IIEC works with stakeholders across all sectors to connect international best practice with the unique needs of the communities in which we operate, combining sound energy efficiency, demand-side management (DSM) and renewable energy policy with hands-on implementation in order to reduce greenhouse gas emissions and encourage sustainable development.

If you do not wish to receive IIEC E-Notes, please reply to e-notes@iiec.org with the word "UNSUBSCRIBE" in the subject line.
| | | |
| --- | --- | --- |
| | Leading the Transition to Clean Energy | |

US Office :
Asia Regional Office :
South Asia Office :
Country Office :
Washington DC, USA

Tel: +1 443 934 2279

e-mail: iiecdc@iiec.org
Thailand

Tel: +66 2 662 3460-4
Fax: +66 2 261 8615
e-mail: iiecbangkok@iiec.org
New Delhi, India

Tel: +91 11 4182 8216/17
Fax: +91 11 4182 8217
e-mail: iiecindia@iiec.org
Manila, Philippines

Tel: +632 426 8567
Fax: +632 426 8566
e-mail: iiecmanila@iiec.org

Copyright © 2015

International Institute for Energy Conservation

, All Rights Reserved.