Energy Efficiency - Key to Sustainability and Security
IIEC is proud to be an endorser of EMPOWER INDIA 2009, which is organised by Urjavaran Foundation jointly with BUREAU OF ENERGY EFFICIENCY (BEE), Ministry of Power, Government of India.  The Exhibition, first of its kind is specially to promote Energy Efficient products and systems, Renewable Energy along with Efficient Building materials as specified under ECBC. It will also highlight Star rated products as approved by BEE.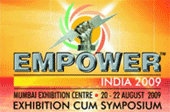 EMPOWER INDIA 2009 will provide an ideal platform and an excellent exposure to manufacturers of Industrial and Electrical Equipments, Domestic and Agricultural Appliances, Building Materials, to interact face to face with Market Segment - Trade & Industries, Domestic Consumers, Government Agencies, Architects, Consultants, Builders etc. to make their right choice.

THEME
EMERGING TECHNOLOGIES IN ENERGY EFFICIENT PRODUCTS AND SYSTEMS
ENERGY GENERATION – RENEWABLE SOURCES
SUPPORT SYSTEMS FOR ENERGY EFFICIENCY
ENERGY EFFICIENT BUILDING MATERIALS – GREEN BUILDINGS

For further information of EMPOWER INDIA 2009, please visit: www.empower-india.com.