The Eco-housing program won the Top Innovation Prize in the "Energy Efficiency Category" at the Asia Clean Energy Forum held in Manila, Philippines on June 5th, 2008. This IIEC and USAID program in India showcased the unique policy and market development approach used to encourage the wider adoption of energy efficiency practices in the residential sector.

The Eco-housing assessment criteria, a voluntary five star rating and certification mechanism, is central to all the policy interventions. The criteria includes a checklist of performance based and prescriptive measures that ensure resource conservation and energy efficiency during the life cycle of the project.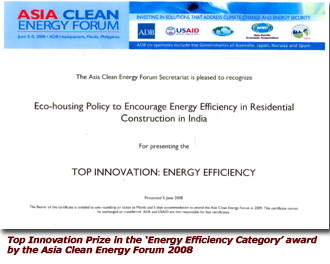 The program has seen the policy adoption at different levels – State, urban local body and financial institutions. The program is presently operational in three urban local bodies in the State of Maharashtra. Moreover, the Housing Policy of the Government of Maharashtra specifies the voluntary adoption of Eco-housing practices. Version 2 of the Eco-housing assessment criteria designed for the five climatic zones is being rolled out to facilitate program expansion across the country. Based on the policy interventions housing finance institutions like Bank of Maharshtra, ING Vyasa are offering mortgage interest buy downs and vendor financing to encourage the scale up of specific efficient technologies. At the same time, urban local bodies are incentivising both developers and consumers. The incentive (10 to 50% rebate) is linked to Eco-housing rating achieved.

To create permanency in program implementation and policy advocacy, the Sustainable Building Technology Center (SBTC) is being established with the support of the Pimpri Chinchwad Municipal Corporation (PCMC). This Center of Excellence will function as a hub to display, educate and test alternative construction techniques, eco-friendly products and technologies.