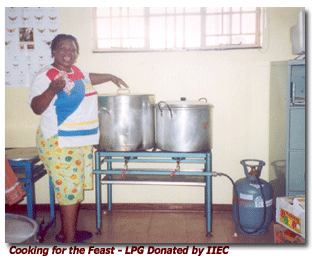 The International Institute of Energy Conservation, whose South Africa office is based in Johannesburg, has recently run a very successful project that promotes the awareness of LPG to low-income households. This project, funded by USAID until December 2004, involved the practical demonstration of LPG as a more healthy and environmentally friendly cooking fuel. The project effectively engaged with the local community by developing a short drama performance that aimed to raise awareness of the benefits to householders of using LPG in an entertaining and informative way. This piece of theatre has been performed in conjunction with practical demonstrations in schools, clinics and community centres within two townships in Region 11, Gauteng.


The Methodology…


Multiple fuel use and fuel switching to meet energy needs in low-income households can be approached in a way that also addresses the problem of deteriorating health in low income households, as a result of poor indoor air quality. Liquefied Petroleum Gas (LPG) is a clean form of energy that is efficient for cooking, water and space heating and thus low-income households in South Africa could benefit from fuel switching to LPG.


To this end, IIEC-Africa has provided capacity building assistance to key stakeholders in the transformation of the LPG market amongst low-income communities in South Africa. This has been achieved by promoting the acceptance of LPG in pilot communities.

Initially, the project engaged with the community structures of the chosen pilot areas (Orange Farm and Fine Town - both within Region 11, Gauteng Province) in order to identify how best to promote the benefits of LPG as an alternative household fuel within these low-income communities. The content of the meetings focused on the methodology of creating awareness and improving acceptability. Hence community members identified that the use of drama was a good way of getting the message across and informing local householders of the health benefits of fuel switching. Practical demonstrations, including hands-on experience of LPG use, were also to be used especially to allay people's fear of LPG, previously identified as the main barrier to LPG's acceptability.


The Communities that benefit…


Two communities were selected for this pilot study funded by USAID: Orange Farm and Fine Town. Both of these communities are situated to the south of Johannesburg in Region 11, within the City of Johannesburg municipality. From the information recorded in "Statistics South Africa", these neighbourhoods are predominantly black African, dwelling equally in formal and informal settlements. Many extensions in these areas are not yet electrified and lighting sources continue to be candles and/or paraffin. Even in electrified areas, the regularity of outages to the supply result in cooking predominantly with paraffin. Most households do not have a regular monthly income, but for those that do, the annual household income averages in the R4800 – R19000 bracket. Demonstrations of LPG have been to householders who predominantly live in LSMs 3-4.


These communities were selected as they have not yet experienced the donor fatigue of other localities and, since they are situated on the main N1 arterial route between Johannesburg and Bloemfontein, the heavy air pollution, especially from coal use in winter, is highly visible.

The field-workers/performers are drawn from the target communities…


IIEC works closely with ten community members who live in the target communities of Orange Farm and Fine Town. These people are respected within their communities (some are already health-workers) and, as the project's field-workers, have been trained in energy awareness issues. These same field-workers have also proved themselves as very proficient actors and this small group has worked on devising the performance as well as taking it out to the public.


All the field-workers have been trained in LPG awareness and safety by Simon Moahloli of LPG Safety Association of SA.


Promoting LPG awareness in low-income households…


In total, the IIEC – LPG project was able to conduct eleven practical demonstrations. These took place at clinics, schools, retail businesses and public events. Once the short drama was conceived and devised, we were able to run the performance in conjunction with these demonstrations.


The drama promotes the ease and simplicity of cooking with LPG as well as explaining the health benefits. After the performance, the field-workers are on hand to answer any questions put to them by the interested public.


The success of the IIEC - LPG project is evidenced by the fact that the local community has shown great enthusiasm and support for our work by requesting that we attend community events and activities. On one such occasion, the project was invited to set up a marquee at the Orange Farm Social Development Services community day.


The drama itself was premi?red at the official opening of Thuthukani Tswelopele Primary School in Fine Town and was very well received, judging by the rapt attention of the audience! The school was holding an inauguration celebration; 10 years of its existence coinciding with 10 years of democracy in South Africa. This was a prestigious occasion indeed, attended by 300 of the school's current intake, their proud parents and all the local dignitaries of the township. The official opening of the Thuthukani Tswelopele Primary School was a fine celebration and we were fortunate to have been invited to play such a vital role.


The drama promoting LPG…


The drama performances have proven to be a powerful means of engaging the public; most performances are held in places where our prime audience are women, who cook and look after the household directly. The field-workers have collected a substantial data-base of contact details from local people who would like to find out more about purchasing and using LPG – to date, over 600 beneficiaries have been engaged in this way.


IIEC has been able to effectively engage with the local community and we feel privileged to have been able to come so close to the people living in the townships within which we are promoting LPG. Our project has really taken off and the feedback that we receive from these communities is always so positive. We hope to develop our educational drama further and "roadshow" it around the township communities. Unfortunately our funding runs out early in 2005. It will be a great shame to see this dynamic programme lose its momentum.