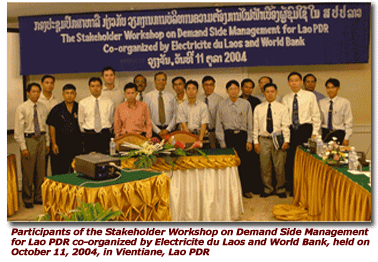 The Lao Peoples Democratic Republic (PDR) is on the way to developing a strategy and plan for demand-side management to assist in managing its future load growth.

Held on October 11, 2004, in Vientiane, Lao PDR, more than 20 representatives from local public and private sector organizations participated in a stakeholder meeting to discuss various DSM program options proposed by IIEC. The meeting, co-organized by Electricity du Laos (EdL), Department of Electricity, Ministry of Industry and Handicraft (MIH), and IIEC, and supported by the World Bank, is a crucial element in the formulation process of DSM action plan for the Demand-Side Management/Energy Efficiency (DSM/EE) program under the Southern Provincial Rural Electrification II Project (SPRE II).
Mr. Savath Phoumlavanh, Deputy General Manager, Distribution Division of EdL, stressed in his welcome speech the importance of gaining inputs from national stakeholders to finalize the DSM programs that could be undertaken by EdL in the coming years. During the meeting, participants shared their views, experience and concerns on various existing energy conservation initiatives that could be driven further and complemented by the proposed DSM program action plans. Participants agreed that the DSM/EE program is the important tool that will not only enhance export opportunities for EdL through electricity-saving in various domestic end-use sectors, but will also improve EdL's accounts receivable by redicing consumption in subsidized end-use sectors. In addition, the DSM/EE program will reduce production costs for the local manufacturing industries and increase their competitiveness as ASEAN becomes a free-trade region and other international trade barriers are reduced. For more information, contact Felix Gooneratne at
This email address is being protected from spambots. You need JavaScript enabled to view it.
.