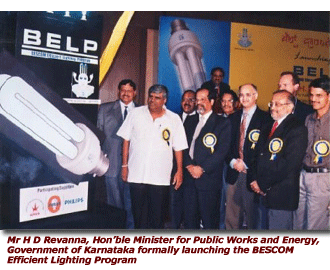 Compact fluorescent lamps (CFLs) are more expensive than traditional incandescent lamps, and the challenge is to overcome this barrier and to make it easy for ordinary consumers to purchase them. Through close cooperation with CFL suppliers, a new program launched in India should help stimulate market channels, while reducing the opportunity for sale of fake or sub-standard lamps.

 In December 2004, a unique utility-driven lighting initiative the "BESCOM Efficient Lighting Program" (BELP) was launched by Mr H. D. Revanna, Honorable Minister for Public Works and Energy, Government of Karnataka. Initiated by the Bangalore Electricity Supply Company (BESCOM), BELP will reach out to 1.6 million residential consumers through innovative Direct Sale and Monthly Installment schemes. Consumers will have the option of either directly purchasing a CFL with a one-year warranty; or paying through an installment scheme on their utility bill, in which the extra cost of the CFL is recovered by consumers through monthly savings spread over a period of nine months. The market-based scheme used in BELP relies on close cooperation with the suppliers and a short-listing process through which three local suppliers of CFLs qualified to participate in the program.
Through this program, individual consumers can buy a maximum of five lamps from any of 400 outlets across the Bangalore urban district at subsidized rates. This unique residential lighting program gives consumers an opportunity to replace energy-intensive conventional lamps with energy efficient CFLs in areas of high usage such as corridors, the kitchen, and the portico. Each light replaced with a CFL will result in a savings of approximately Rs15 (US$ 0.34) per month. Another special feature of the program is a special hologram sticker with a unique identifier for each lamp. The hologram cannot be duplicated and will break if anyone attempts to remove it from the CFL.
 
This one-of-a-kind program will support energy conservation in India's residential sector with an emphasis on protecting consumer interests - primarily that of product pricing and warranty servicing. The BELP program is supported by the US Agency for International Development (USAID) as part of the ECO-II initiative in India, which is being implemented by IIEC.

Visit: http://www.usaid.gov/in/MediaCenter/Press-Dec10-04.htm for welcome remarks by Mr William Martin, Acting Mission Director, USAID India on the occasion of the launch.

For more information on the ECO II program, contact Mahesh Patankar at This email address is being protected from spambots. You need JavaScript enabled to view it. .