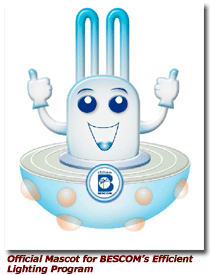 As a part of the Energy Conservation and Commercialization II (ECO II) project, IIEC has been working in the Indian states of Karnataka and Maharashtra in the implementation of market driven Demand-side Management (DSM) Programs.

One of the most exciting and challenging programs to be undertaken by the Bangalore Electricity Supply Company Ltd (BESCOM) is an energy efficient lighting program for the residential and small commercial customers. If successful, BESCOM will be the first state utility in India to implement a large-scale lighting program in partnership with the private sector. The IIEC Project team is assisting with the program design which have several unique features - several lighting technologies (CFLs and 36W FTLs), manufacturers warranty and collection of lamp costs in installments through BESCOM's billing system.


The initial program will target 1.68 Million customers in the Bangalore Urban District and following program monitoring and evaluation, BESCOM hopes to expand the program to all six districts of its distribution network covering nearly 3.9 Million customers. In addition to providing financial benefits to its domestic customers, the program will provide significant system benefits to BESCOM including peak demand reduction, improvement in load factor and power quality.

BESCOM and IIEC have conducted several meetings with all the stakeholders (lighting manufacturers, suppliers, retailers, financial institutions) and formally issued Invitation for Bids (IFB) from lighting suppliers on 12 June 2004. The bids will close on 14 July 2004 and the program will be launched in September 2004.