IIEC was contracted by the Asian Development Bank (ADB) to support the implementation of the National Energy Efficiency Program in Vietnam. The focus of the project is the large industries, particularly Cement, Steel, Chemicals, Plastics and Beverage, where there is significant potential for process and energy efficiency improvements.
The key objectives of the project is the conduct of investment grade audits in selected industrial enterprises and prepare a pipeline for projects that could be implemented with ADB assistance. In consultation with the local Financial Institutions, IIEC will prepare operational guidelines for Energy Efficiency Financing in Vietnam which will be used for finalizing the investment packages for the selected projects.
Two other activities have been undertaken to compliment the project and ensure sustainability. First, is the upgrade of the capacity of the Energy Conservation Centers (ECCs) in Hanoi and Ho Chi Minh City to provide energy services to the industrial sector. Second, to design and develop a Training Program for Managers and Engineers in Industry in concepts of energy management, process integration and energy services. The training modules will be used by the ECCs in servicing the Industries.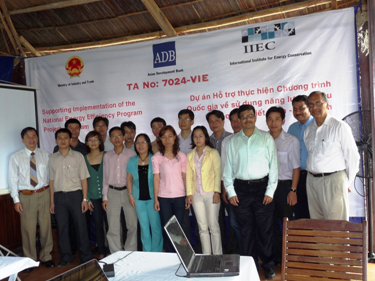 Participants at a Training Program for Manager and Engineers in Da Nang (March'09)
For further information, contact Felix Gooneratne at This email address is being protected from spambots. You need JavaScript enabled to view it.