With its decade-long presence in India and close partnership with utilities in Mumbai, IIEC has created the Mumbai Energy Alliance (MEA). The vision of the MEA is to mobilize a collaborative effort to deliver large-scale, measurable energy efficiency improvements in Greater Mumbai, and reduce the city's long-term energy costs and carbon footprint by collaborating with utilities in the electricity, water and gas markets.  Drawing upon the successes of the pioneering Cambridge Energy Alliance (http://www.cambridgeenergyalliance.org/), the MEA plans to implement city-wide energy efficiency programs using innovative service delivery mechanisms that benefit utilities, consumers and service providers alike.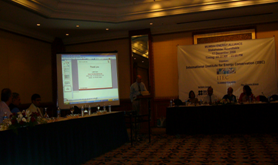 IIEC and The Climate Group have entered into an understanding to jointly promote the MEA and larger stakeholder management.  A stakeholder roundtable was jointly organized by IIEC, The Climate Group and the British Council on December 17th, 2008. Representatives from Mumbai city government, the national Bureau of Energy Efficiency, utilities, regulators, financial institutions, public interest groups and international environmental organizations were invited to provide their inputs for the design and implementation of the MEA.
Current activities for the MEA include characterizing the Mumbai Energy market, financial engineering to facilitate transactions and assure MEA's sustainability, developing a pipeline of programs for phased implementation and creating and implementing a media strategy to mobilize community-based organizations.
The MEA is supported by initial grant funding from Blue Moon Foundation, Overbrook Foundation and the French International Agency for Development.
For more information, please visit www.mumbaienergyalliance.org or contact Ira Athale Prem at This email address is being protected from spambots. You need JavaScript enabled to view it..