The Swiss Agency for Development and Cooperation (SDC), part of the Swiss Ministry of Foreign Affairs, is represented in India through the Climate Change and Development Division (CCD). CCD has commissioned IIEC to undertake a feasibility study for establishment of TopTen India.
TopTen (www.topten.info) is an information system and database for promotion of energy efficient consumer goods (appliances, electronics, building components, motor vehicles). It stimulates consumer demand and influences government policy, healthy competition amongst manufacturers, would trigger new energy efficient product development and retailers sales program. Its goal is to speed up and focus the market transformation for energy efficient consumer goods. TopTen exists as a web based information platform in several countries in Europe, China and the USA.
The plan is to publically launch a national TopTen India program in the beginning of 2013.The feasibility study for TopTen India includes analysis of economic growth and ecological issues affecting consumer goods markets, policies, regulations, stakeholders and potential funding sources. IIEC will seek advice, information and opinions from relevant stakeholders and experts in India on the TopTen India project and determine a pathway for establishment of TopTen India.
For further information, please contact B Anil Kumar - This email address is being protected from spambots. You need JavaScript enabled to view it..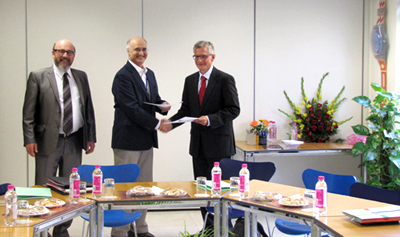 Contract Signing Event (from left to right) Dr. Gerolf Weigel (Counselor and Head Climate Change and Development at SDC), Dr. Nitin Pandit (President of IIEC) and Mr. Hans-Peter Egler (Head of Trade Promotion & Environment Division, State Secretariat for Economic Affairs) at the Embassy of Switzerland, New Delhi on February 24, 2012.