The International Institute for Energy Conservation (IIEC) is currently supporting the Renewable Energy and Energy Efficiency Partnership (REEEP) in a project called the Technical Analysis of Appliance Markets to Support the Pacific Labelling and Standards (PALS) Programme. The project covers a total of 17 Pacific Island Countries/Territories (PICs) and is being carried out in coordination with the Pacific Labelling and Standards Programme implemented by the Secretariat for the Pacific Community (SPC) and funded by the Australian Government.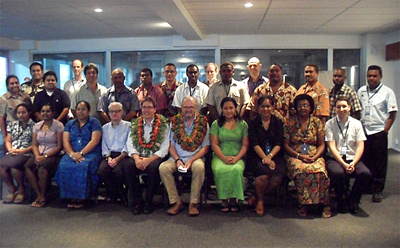 Delegates attending the Pacific Appliance Labelling and Standards Workshop
on 11th April 2012 in Suva, Fiji (Photograph taken by SPC)
The objective of this study is to analyse the characteristics of major appliance and lighting products and markets, in order to support decision making of most effective S&L strategy for each PIC.
The project commenced formally with the PALS Work Plan Design and Implementation Regional Workshop on the 11th to 13th April 2012 in Suva, Fiji. IIEC is currently coordinating with the PALS country focal points to compile customs data on electrical appliances as well as hiring national consultants to conduct electrical appliance surveys of major retailers and wholesalers in each PICs. The country and project reports will be finalized by September 2012.
For further information, please contact David Morgado - This email address is being protected from spambots. You need JavaScript enabled to view it..