The project titled "Promoting Energy Efficiency in the Pacific: Phase 2 (PEEP2)", funded by the Asian Development Bank (ADB), has launched a website to provide information on best practices and showcase project activities through demand-side energy efficiency implementation in the residential, commercial, and government sectors of each of the participating countries in the Pacific.

The PEEP2 project's website is developed as a research and dissemination resource on implementation of energy efficiency projects in five Pacific Developing Member Countries (PDMCs) – the Cook Islands, Papua New Guinea (PNG), Samoa, Tonga, and Vanuatu, with an emphasis on improved energy efficiency in new and existing buildings, which account for a high percentage of electricity end-use in all five PDMCs.
The website contains all relevant information about the project and will be updated with project progress, news and relevant events. Visitors can:
Find out what PEEP2 project undertakes to improve efficiency in the use of electrical power for consumers in five Pacific developing member countries (PDMCs);
Access "Country Information & Database" -- provides an overview of the energy sector in each country with an accessible database of energy use by building sector.
download resources e.g. reports and presentations via "Publications"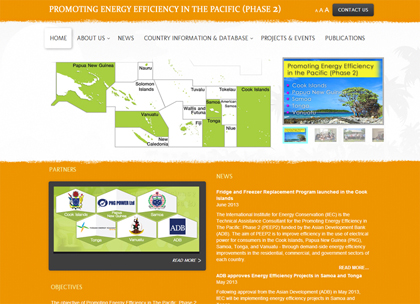 The PEEP2 Website : www.ee-pacific.net
For the PEEP2 Project, the Building Energy Use Indexes (EUIs) were determined to allow for comparison across the five PDMCs and building types. This feature provides interactive graphics of Building EUIs in each of the five PDMCs, allowing for comparison between countries and/or building type.
"Not only showcase what we have been doing, the PEEP2 website intends to present the information on Building EUI in the PDMCs, which will serve as an indicator for building and energy managers and enable the comparison between buildings irrespective of size or number of rooms. This indicator can also be used, over a time period, to help monitor and evaluate the impact of energy efficiency measures in the building," said Sommai Phon-Amnuaisuk, energy expert from PEEP Project.
The website aims to regularly add new data, resources and update more on demand-side energy efficiency implementation in each country.  Please check back for regular updates!
Note: Visit the PEEP2's Web site at www.ee-pacific.net . Or find updates of project activities in our feature story.
For further information, please contact Felix Gooneratne / Team Leader - This email address is being protected from spambots. You need JavaScript enabled to view it.
About PEEP2
The Asian Development Bank (ADB) approved regional technical assistance (TA) for Promoting Energy Efficiency in the Pacific (PEEP) to provide preliminary assistance to assess the potential for reducing fossil fuel consumption in these five PDMCs.  The PEEP will be implemented in two phases, focusing on identifying a pipeline of specific energy efficiency projects for funding or co-financing by ADB, GEF and other sources. Phase 1 was concluded in May 2011.  The International Institute for Energy Conservation (IIEC) - Asia, was selected as the Technical Assistance Consultants for the implementation of Phase 2.
###