The ASEAN Climate Change Action Database (ACCAD) - http://accad.sean-cc.org - was recently launched as part of the Southeast Asia Knowledge Network of Climate Change Offices (SEAN-CC)'s knowledge sharing activities, funded by the United Nations Environment Programme (UNEP).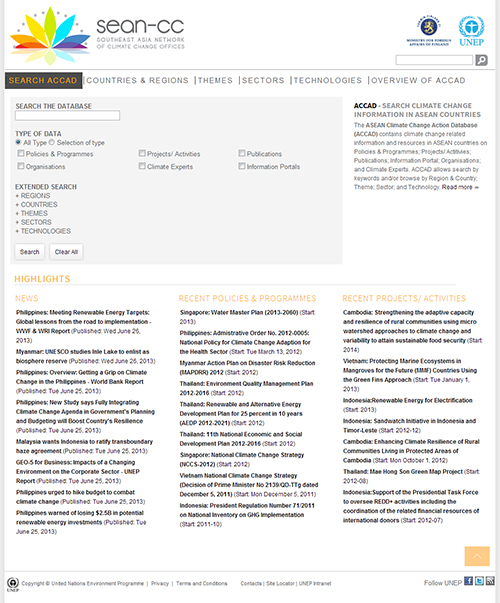 The ACCAD aims to facilitate knowledge sharing and exchange experiences and best practices among key stakeholders pertaining to climate change (CC) actions in the Association of Southeast Asian Nations (ASEAN) region such as policies & programmes, projects/ activities, resources and CC related technologies in order to support the integrated analysis and development of framework policies for low emissions and CC resilient communities in the region.
The ACCAD was designed and developed by IIEC based on survey and needs assessment of key climate change stakeholders in the region, review of existing climate change related websites and databases as well as comprehensive compilation of CC informationundertakenwith the support of ASEAN country governments and national climate change consultants.
The ACCAD platform is a web-based database system developed to help facilitate knowledge sharing and management.  The public front-end interface and navigation menus are designed to provide quick and easy access to knowledge database system.  In addition to the features, it includes the detailed search option, which enables users to select multiple categories such as regions, countries, themes, sectors, and CC related technologies and filter the information according to the major key elements of information such as policies & programmes, projects/activities, publications, information portals, organisations and CC experts.
Here are some of ACCAD's resources available online:
With the aim of sharing knowledge among network members and/or CC professionals to meet the region' sustainable development, ACCAD is conceptually positioned to serve as a repository to provide resources in the field of CC learning community of practice.  The ACCAD system will be regularly updated more with new resources.  The project team encourages CC professionals to share and exchange experiences of running projects/ activities, best practices in policy and technology by using ACCAD as a centralized network sharing in the ASEAN region.
To learn more about ACCAD, please visit http://accad.sean-cc.org
For further information, please contact Kullakant Chertchutham - This email address is being protected from spambots. You need JavaScript enabled to view it..
For all other SEAN-CC queries please visit the SEAN-CC website at http://www.sean-cc.org.