The International Institute for Energy Conservation (IIEC) is the Technical Assistance Consultant for the Promoting Energy Efficiency in The Pacific: Phase 2 (PEEP2) funded by the Asian Development Bank (ADB).

The aim of PEEP2 is to improve efficiency in the use of electrical power for consumers in the Cook Islands, Papua New Guinea (PNG), Samoa, Tonga, and Vanuatu - through demand-side energy efficiency improvements in the residential, commercial, and government sectors of each country.


The PEEP2 project commenced in November 2011 and following a series of activities covering energy data collection and assessment including energy audits of public buildings and residential energy surveys, IIEC has initiated the implementation of energy efficiency projects in all five countries. By May 2013, a total of 15 projects had been approved by ADB worth more than 1.2 million USD.


One of the projects approved is the Fridge Freezer Replacement Program (FFRP) in the Cook Islands. The objective of the FFRP is to replace old inefficient fridge/freezers with high efficient fridge/freezers and reduce electricity consumption by approximately 20-30% per participating household. 


The program was formally launched on the 1st May 2013 following the signing of a Memorandum of Understanding (MOU) between the ADB, the Government of the Cook Islands, and white goods retailers - Motor Centre and the Cook Islands Trading Corporation Ltd. (see photograph below)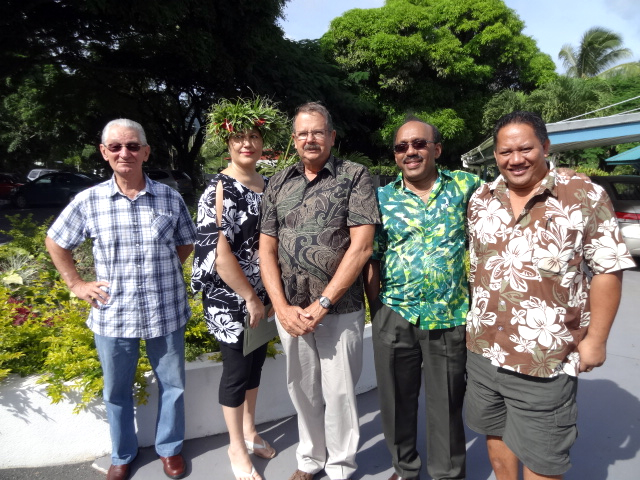 MoU Signing (left to right) – Don Dorrell (Managing Director of Motor Centre), Dianna Clarke Bates (Executive Director of Cook Islands Trading Corporation), Roger de Bray (Energy Commissioner), Felix Gooneratne (IIEC) and Tangi Tereapii (Renewable Energy Development Division of the Office of the Prime Minister)
Under the program, the retailers offer rebates between NZ$150 and NZ$500 to customers purchasing selected high efficient fridge/freezer models, in exchange for their old, working low efficient fridge/freezer of similar capacity. IIEC also provided training to retailer staff regarding the FFRP requirements and energy labeling of electrical appliances.


Overall, the FFRP aims to cover 325 households over a one year period, with the possibility of being further extended depending on successful uptake. After only one month of implementation, at least 30 units had been sold under the FFRP by the 1st June 2013.


For further information on the FFRP and other PEEP2 energy efficiency projects, please visit http://www.ee-pacific.net or contact Felix Gooneratne - This email address is being protected from spambots. You need JavaScript enabled to view it.