IIEC Successfully Implements the Largest Energy Efficiency Project in the South Pacific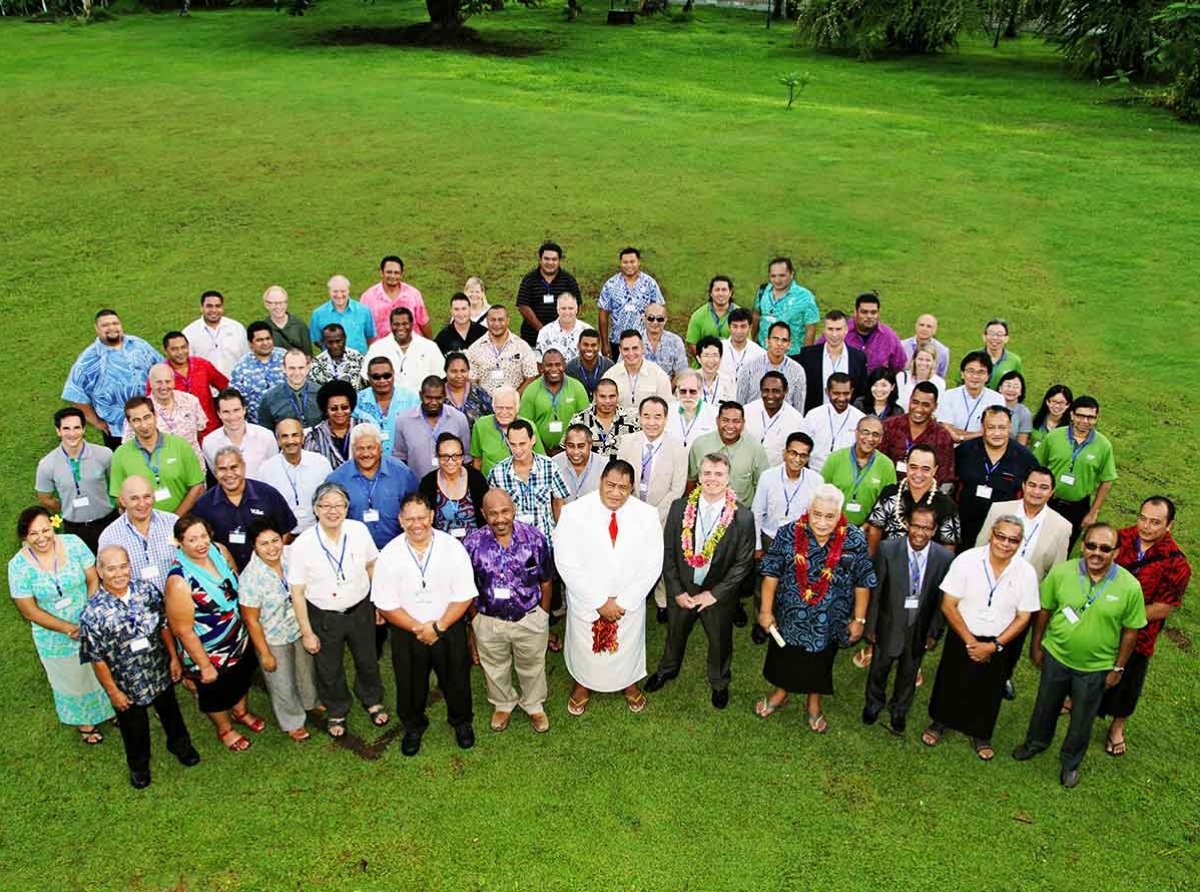 Under the Pacific Alliance for Sustainability (PAS) program of the Global Environment Facility (GEF), the Asian Development Bank (ADB) provided technical assistance for the "Promoting Energy Efficiency in the Pacific (PEEP)" project. The project was co-financed by the GEF, Government of Australia, Japan International Cooperation Agency (JICA) and the Asian Clean Energy Fund (under the Clean Energy Financing Partnership Facility). During the implementation phase (PEEP2) from 2011 to 2015, the International Institute for Energy Conservation (IIEC) established policy and implementation frameworks, developed energy efficiency targets, and implemented a range of energy efficiency (EE) projects in the five participating Pacific Developing Member Countries (PDMCs): PNG, Vanuatu, Tonga, Samoa, and the Cook Islands. The overall goal of the project was to reduce energy consumption in the residential, commercial and public sectors in order to save energy, reduce fossil fuel imports, and lower greenhouse gas (GHG) emissions.
Total Investment
US$ million
2.68
Energy Savings
MWh
3,377
/per year
Cost Savings
US$ million
1.51
/per year
CO2 Savings
tons
3,204
/per year
Under PEEP2, IIEC implemented 34 EE projects following ADB procurement guidelines. Grant funding from the GEF was provided for the procurement of EE equipment, while the installation costs were covered through co-funding from the recipients (e.g., hotels, government agencies). With a total investment of US$ 2,686,637, the project resulted in energy annual savings of 3,377 MWh, annual cost savings of US$1,519,629 and CO2 savings of 3,204 tons/year. The average cost of saved energy across these projects varied from 3 to 11 cents/kWh—extremely cost-effective in comparison with the electricity tariffs in the PDMCs, which range between 29 and 61 cents/kWh.
Implementation of 34 Energy Efficiency Projects in PEEP2 Project
All Countries
1
project(s)
Papua New Guinea
5
project(s)
Project outcomes also included:
· Development of an energy use database to provide access to information on electricity consumption and energy efficiency indicators at national and end-use sector levels.
· Development of national EE targets for the five PDMCs based on energy consumption and end-use energy savings projections for three policy scenarios – conservative, moderate and aggressive – for the years 2020, 2025 and 2030.
· Development of guidelines to support EE best practices, including an Energy Efficiency Technology Assessment; International Best Practices for Energy Efficiency Building Codes; a Green Hotels Rating Scheme for the Pacific; a Green Commercial Buildings Rating Scheme for the Pacific; Energy Efficiency Assessment Guidelines, Framework and Scorecard; and EE Guidelines for Hotels, Commercial Buildings and Street Lighting.
· Conduct of a comprehensive energy audit training in all five PDMCs, which included intermediate and advanced energy auditing, practical on-site training and preparation of Investment Grade Audit Reports.
· Preparation of a series of "Energy Saving Tips" for printing on the back of electricity bills and "Home Energy Guides" providing information on electricity costs for common electrical appliances (both efficient and inefficient) customized to each PDMC.
The PEEP2 guidelines, templates and implementation models would be suitable for scaling up EE implementation throughout the Pacific region.

Table:

Project Cost and Savings by Country
| | | | | | | | |
| --- | --- | --- | --- | --- | --- | --- | --- |
| Country | Cost of Equipment (US$) | Cost of Installation (US$) | Total Cost (US$) | Annual Energy Savings (kWh/year) | Annual Energy Cost Savings (US$/year) | Annual Diesel Savings (litres/year) | Annual CO2 Savings (tCO2e/year) |
| Cook Islands | 616,582 | 148,780 | 765,362 | 525,223 | 320,386 | 153,312 | 471 |
| PNG | 316,978 | 179,851 | 496,829 | 428,384 | 122,518 | 108,190 | 685 |
| Samoa | 349,895 | 170,409 | 520,304 | 919,381 | 413,550 | 250,987 | 711 |
| Tonga | 261,478 | 136,534 | 398,012 | 638,924 | 230,013 | 109,973 | 582 |
| Vanuatu | 311,950 | 138,181 | 450,131 | 864,595 | 433,162 | 249,001 | 706 |
| All ** | 55,599 | - | 55,599 | - | - | - | - |
| Total | 1,912,482 | 773,755 | 2,686,237 | 3,376,507 | 1,519,629 | 871,463 | 3,204 |
** Lamp Waste Treatment Equipment


Project Summary by Country
· Cook Islands
Project

Energy Efficient Technology

Total Project Cost (US$)

Annual Energy Savings (MWh)

Annual GHG Reductions (tCO2e)

Average Tariff (US$/kWh)

Annual Energy Cost Savings (US$)

Lifetime Energy Savings (MWh)

Lifetime GHG Reductions (tCO2e)

Cost Per Lifetime Saving (US$/

kWh)

Cost/Lifetime GHG Saving (US$/

tCO2e)

Simple Payback (Years)

EE Lighting in Airport

Solar LED

36,520

8.2

6.7

0.61

4,972

163

134

0.22

273

7.3

EE Lighting in Market **

Solar LED

108,510

7.3

6.6

0.61

4,423

145

132

0.75

822

24.5

Refrigerator Program

Efficient Fridge/Freezers

113,150

83.3

66.4

0.61

50,803

833

664

0.14

170

2.2

EE Lighting in Port **

Solar LED

108,125

8.6

6.9

0.61

5,267

173

138

0.63

784

20.5

EE Measures in the Public Buildings

T-5 Lamps

121,080

197.0

176.0

0.61

120,140

1,970

1,760

0.06

69

1.0

EE in Hotels and Commercial Buildings

Inverter Acs, Insulation

148,808

57.6

94.9

0.61

35,128

576

949

0.26

157

4.2

EE Lighting in Residential Sector

T-5 Lamps

72,331

141.8

95.0

0.61

86,498

2,836

1,900

0.03

38

0.8

EE Street Lighting in Outer Islands

LED Street Lights

24,410

4.7

4.0

0.61

2,855

35

30

0.70

814

8.6

EE Measures in the Hospital

Solar Water Heaters

32,428

16.9

14.0

0.61

10,302

169

140

0.19

232

3.1

Totals

765,362

525

471

N/A

320,386

6,899

5,847

0.11

131

2.4
** Scope was higher than base case
· Papua New Guinea
Project

Energy Efficient Technology

Total Project Cost (US$)

Annual Energy Savings (MWh)

Annual GHG Reductions (tCO2e)

Average Tariff (US$/kWh)

Annual Energy Cost Savings (US$)

Lifetime Energy Savings (MWh)

Lifetime GHG Reductions (tCO2e)

Cost Per Lifetime Saving (US$/

kWh)

Cost/Lifetime GHG Saving (US$/

tCO2e)

Simple Payback (Years)

EE Street Lighting

LED Street Lighting

63 ,899

36.7

26.5

0.286

10,490

275

199

0.23

322

6.1

EE Lighting in Government Sector

T-5 Lamps

174 ,428

218.2

535.0

0.286

62,402

2,182

5,350

0.08

33

2.8

EE Street Lighting

LED Street Lighting

85 ,800

46.0

45.0

0.286

13,163

345

338

0.25

254

6.5

EE Lighting in Hospital

T-5 Lamps and sensors

87 ,817

43.9

27.0

0.286

12,557

439

270

0.20

325

7.0

EE Lighting in Government Sector

T-5 Lamps and sensors

84 ,885

83.6

51.0

0.286

23,906

836

510

0.10

166

3.6

Totals

496,829

428

685

N/A

122,518

4,077

6,666

0.12

75

4.1
· Samoa
Project

Energy Efficient Technology

Total Project Cost (US$)

Annual Energy Savings (MWh)

Annual GHG Reductions (tCO2e)

Average Tariff (US$/kWh)

Annual Energy Cost Savings (US$)

Lifetime Energy Savings (MWh)

Lifetime GHG Reductions (tCO2e)

Cost Per Lifetime Saving (US$/

kWh)

Cost/Lifetime GHG Saving (US$/

tCO2e)

Simple Payback (Years)

EE Street Lighting

LED Street Lights

114,222

45.0

36.2

0.45

20,250

338

272

0.34

421

5.6

EE Lighting in Government Buildings

T-5 Lamps

50,124

406.0

324.7

0.45

182,700

2,761

2,208

0.02

23

0.3

EE Luminaires in Government Buildings

T-5 Luminaires

93,438

86.0

68.1

0.45

38,700

860

681

0.11

137

2.4

Air Conditioning - Government Buildings

Inverter A/Cs

88,435

80.0

77.3

0.45

36,000

800

773

0.11

114

2.5

Solar Hybrid A/C

Smart Controllers

EE Lighting in Commercial Buildings

T-5 Lamps

71,440

127.0

101.9

0.45

57,150

864

693

0.08

103

1.3

Air Conditioning - Hotels

Inverter A/Cs

33,610

20.0

15.8

0.45

9,000

200

158

0.17

213

3.7

EE Lighting in Households

T-5 Lamps

69,035

155.0

123.6

0.45

69,750

3,100

2,472

0.02

28

1.0

Totals

520,304

919

711

N/A

413,550

8,922

7,256

0.06

72

1.3
· Tonga
Project

Energy Efficient Technology

Total Project Cost (US$)

Annual Energy Savings (MWh)

Annual GHG Reductions (tCO2e)

Average Tariff (US$/kWh)

Annual Energy Cost Savings (US$)

Lifetime Energy Savings (MWh)

Lifetime GHG Reductions (tCO2e)

Cost Per Lifetime Saving (US$/

kWh)

Cost/Lifetime GHG Saving (US$/

tCO2e)

Simple Payback (Years)

EE Street Lighting for Outer Islands

LED Street Lights

90 ,968

45.2

41.0

0.36

16,268

339

308

0.27

296

5.6

EE Street Lighting for Tongatapu

LED Street Lights

77 ,363

52.0

47.0

0.36

18,731

390

353

0.20

219

4.1

Residential EE Lighting in the Outer Islands

T-5 Lamps

83 ,939

233.5

213.0

0.36

84,072

4,671

4,260

0.02

20

1.0

EE Lighting in Public Sector Buildings

T-5 Lamps

71 ,783

158.7

144.7

0.36

57,134

1,587

1,447

0.05

50

1.3

Residential EE Lighting in Tongatapu

T-5 Lamps

73 ,958

149.5

136.0

0.36

53,808

2,989

2,720

0.02

27

1.4

Totals

398 , 012

639

582

N/A

230,013

9,976

9,087

0.04

44

1.7
· Vanuatu
Project

Energy Efficient Technology

Total Project Cost (US$)

Annual Energy Savings (MWh)

Annual GHG Reductions (tCO2e)

Average Tariff (US$/kWh)

Annual Energy Cost Savings (US$)

Lifetime Energy Savings (MWh)

Lifetime GHG Reductions (tCO2e)

Cost Per Lifetime Saving (US$/

kWh)

Cost/Lifetime GHG Saving (US$/

tCO2e)

Simple Payback (Years)

EE Air Conditioning

VRF

68,673

14.4

11.5

0.501

7,214

144

115

0.48

597

9.5

EE Lighting in Public Sector Buildings

T-5, LED and CFLs

95,199

122.0

101.0

0.501

61,122

1,220

1,010

0.08

94

1.6

EE Street Lighting in Luganville

LED Street Lights

64,775

36.2

34.0

0.501

18,126

271

255

0.24

254

3.6

Residential EE Lighting, Luganville

T-5 Lamps

46,668

136.0

112.0

0.501

68,136

2,720

2,240

0.02

21

0.7

EE Street Lighting in Port Vila

LED Street Lights

65,575

46.0

24.0

0.501

23,054

345

180

0.19

364

2.8

Residential EE Lighting, Port Vila

T-5 Lamps

56,478

319.0

264.0

0.501

159,819

6,380

5,280

0.01

11

0.4

EE Lighting for Provincial Buildings and Schools

T-5 Lamps

52,763

191.0

159.0

0.501

95,691

1,910

1,590

0.03

33

0.6

Totals

450,131

865

706

N/A

433,162

12,990

10,670

0.03

42

1.0