IIEC Recent News
Energy Efficiency Asia 2008, June 19 - 20, 2008, Beijing, China
A cost-effective marketing solution for world-class vendors serious about selling their products, services and business solutions into Asia.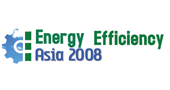 Energy Efficiency Asia 2008 will be jointly convened by China Energy Conservation Service Industry Association (EMCA) and Global Leaders Institute and it is endorsed by the International Institute for Energy Conservation (IIEC), the Renewable Energy and Energy Efficiency Partnership (REEEP) and the International Energy Conservation Environment Protection Association (IEEPA).

You'll hear over 30 exciting key note speeches and panel discussions about development mode of energy efficiency in China, the investment opportunities in the bright and challenging energy efficiency market in Asia, green development strategy of energy intensive companies, tax and fiscal support to promote energy-saving and pollutants reduction, energy conservation financing solutions, energy efficiency projects under the guarantee of production safety, the feasibility plan of subsidiary ESCo company and technology Innovations.

You'll have the opportunities to communicate with senior officials from the Department of Environment and Resources, National Development and Reform Commission (NDRC), the Department of Policy and Legislation of State Administration of Taxation, State-owned Assets Supervision and Administration Commission of the State Council, U.S.A Department of Energy, and more than 200 industrial leaders from energy intensive companies and including China National Petroleum Corporation, Asian Development Bank, China Huaneng Group, Southern Power Grid Corporation , World Business Council for Sustainable Development, Tokyo Electric Power Company, Xinwen Mining Group, etc.

Energy Efficiency Asia 2008 provides the platform to share experiences and solve the urgent problems, which will enable you to gain valuable insight into new frontiers of Asia-Pacific energy efficiency undertaking as well as great business opportunities.

For further information of Energy Efficiency Asia, please visit: www.energyefficiencysummit.com.

For the full agenda, to register for the summit, or to inquire about the sponsorship & exhibition opportunities available, please feel free to contact:

Sarah Zheng
Tel: +86 21 5236 0030
Fax: +86 21 5236 0029
E-Mail: This email address is being protected from spambots. You need JavaScript enabled to view it.
Website: www.energyefficiencysummit.com