IIEC Recent News
Appliance Energy Labels Launched in India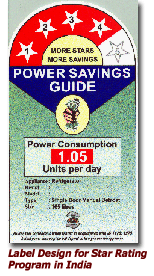 An energy-efficiency rating scheme for electrical appliances will soon come into force in India. The much-awaited star rating for consumer electronics and electrical appliances will come into force in India by the year-end, through a notification by the Ministry of Power. The rating will grade models on their energy efficiency, starting from one star for the least energy-efficient, and going up to five stars, for the most energy-efficient model. Though sources close to the development say the initial test period will cover refrigerators and will be a voluntary initiative from manufacturers, the target is to make it mandatory by mid-2007.

"Though technically we are ready for a number of products, the Collaborative Labeling and Appliance Standards Program (CLASP) will initiate the process with refrigerators. A high level of consumer awareness and participation is needed to make this program a success," said Tanmay Tathagat, advisor to the Ministry of Power and Senior Energy Efficiency Specialist with IIEC-India. A study done by the Bureau of Energy Efficiency revealed that the scope for savings is as much as 25-30 percent of the power produced in the country. According to Tathagat, standards for a number of products such as tube lights, pumps, motors, air conditioners, televisions are already ready.


The move by the government to bring the star rating for consumer electronic and electrical appliances was kicked off way back in 1999, with the establishment of a Parliamentary Committee which was followed by an act of Parliament in 2001, called the Energy Conservation Act. This was later followed by establishment in 2002 of the Bureau of Energy Efficiency (BEE), under the Ministry of Power, with an agenda to make the star rating mandatory by 2007.


Along with the implementation of this star rating program, the BEE will also kick off a campaign to educate the consumers on the star rating scheme. Adequate precautions have also been taken to avoid spurious star labels from entering the market. "The labels will have a hologram with a serial number that will give details of the manufacturers, model and make of the product, making it practically impossible for any foul play," said Tathagat. The innovative use of this hologram was pioneered by IIEC working with Bangalore, India in its compact fluorescent lamp (CFL) program, which was launched in December 2004.


For more information on the Star Rating Program, please contact Tanmay Tathagat at This email address is being protected from spambots. You need JavaScript enabled to view it. .