IIEC Recent News
IIEC Wins Financial Innovation Grant Competition March 5th, 2010
The Agence Française de Développement, Bill & Melinda Gates Foundation and The World Bank co-hosted a Marketplace on Innovative Financial Solutions for Development (http://en.fininnov.org/main.php?page=call-end2) in Paris on March 4-5, 2010. The Marketplace brought together a number of international development practitioners, financiers, donors, social entrepreneurs, academics, civil society, and policy makers.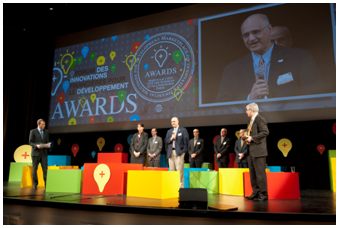 A key feature of the event was a grant competition to highlight fresh ideas on how innovative financing mechanisms can be used to better solve development challenges and can be scaled up and replicated broadly. Over 800 organisations entered the competition, 20 of these were short-listed, including IIEC's proposal "EcoTRA: EcoHousing Trust and Retention Accounts". The event also included a number of workshops on financing development, as well as 3 plenary sessions. Videos of the plenaries are available at this site: http://www.dailymotion.com/video/xcmk7t_plenary-i-part-5-7_news.
EcoTRA is a proposal to establish Trust and Retention (escrow) accounts to finance climate-friendly interventions in common areas of co-operative housing societies. The escrow mechanism will reduce the risk of lending, giving banks access to a large number of new clients. Co-operative housing societies will have increased access to finance and lower utility bills; energy efficiency service providers will receive additional business, and large-scale implementation will lead to lower energy consumption and green house gas emission. The model will be tested in Thane, which is part of the Mumbai Metropolitan Region. The IIEC team interacted with participants at the Marketplace.
Based on the written proposal and 2 sessions with 4 judges from a panel, EcoTRA was announced to be one of the 5 winners for a grant of US $100,000 to implement a pilot of the project in Thane. The winners were presented a trophy by AFD CEO Jean Michel Severino.

A video clip of the announcement that EcoTRA was one of the winners.