IIEC Recent News
DFID UK Recognizes IIEC's Achievements in the Energy Efficient Lighting Program in Malawi
By implementing a series of Demand Side Management (DSM) techniques under the UK Department for International Development (DFID)-funded Energy Efficient Lighting Project (EELP), the IIEC helped Malawi's utility (ESCOM) achieve major reductions in peak demand.
This project helped reduce national GHG emissions, avoided the need to install new generation capacity, and stimulated the economy with increased livelihoods. The project's outcomes were verified by measurements taken directly from 17 feeders nationwide, and indicate 65 MW reductions of peak demand during morning spikes, and 51 MW during the evening period. This decrease - which equates to 20% and 15% respectively - has helped reduce power outages during both peak periods, while saving an estimated 118.37 million USD to ESCOM, and 60.01 million USD for consumers.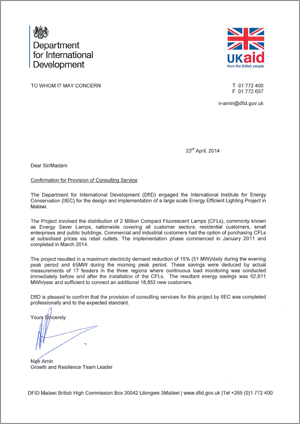 Letter of Confirmation for Provision of Consulting Service from DFID
The EELP addressed energetic, social, and economic constraints to Malawi's development by targeting inefficiency in both the public and private sectors. A central component of the project's implementation was the procurement, distribution, and direct home installation of 2 million high quality Compact Fluorescent Lamps (CFLs). Using DFID funding, our work on EELP allowed residents and small businesses to replace their incandescent bulbs with highly efficient CFLs at no cost. We also helped address the sustainability of program funding through the sales of CFLs at subsidized prices to the commercial sector. As the first large-scale CFL program to feature direct installation in the residential sector, EELP used a replicable model, and has been documented in the World Bank Institute's CFL Toolkit: https://www.esmap.org/CFLToolkit. The program's implementation work was augmented by the design of innovative policy and financing mechanisms which include Minimum Efficiency Performance Standards (MEPS) and a revolving fund that will ensure high-quality CFL standards and sustain funding for energy efficiency initiatives.
After surpassing initial project goals, the IIEC team was pleased to receive a letter of satisfactory completion from the DFID. The notice confirms project results of annual energy savings reaching as much as 62,611 MWh/year - enough to connect an additional 18,852 households and small businesses to the existing power grid.
It is estimated that constraints to energy efficiency in Malawi account for 4.4% of overall GDP and have acted as a continued limiting factor in national development. Reductions in peak demand, which are a direct result of the EELP's success promise to generate continued growth across Malawi, while helping to limit its emissions and save energy.
For further information, please contact Felix Gooneratne - This email address is being protected from spambots. You need JavaScript enabled to view it.