IIEC Recent News
Senior Management Changes at IIEC – Sanjay Dube appointed as new CEO
The IIEC Board of Directors have appointed current Vice President of South Asia, Mr. Sanjay Dube, to succeed Mr. Felix Gooneratne as the new Chief Executive Officer (CEO), effective from 1 January 2019. Mr. Gooneratne will transition to the role of Executive Director.
Mr. Dube Sanjay has been associated with IIEC since January 2002, when he joined as a Senior Project Manager and played a key role in the USAID funded ECO-II Project; and left IIEC at the completion of this project. He subsequently held senior positions at ICF International (Senior Program Manager), Emergent Ventures India (Vice President) and Chief of Party of the PACE-D Project (USAID funded) in India. He rejoined IIEC in 2012 as Vice-President of South Asia and has been instrumental in the resurgence of IIEC's operations in India. With over 28 years of his experience working in clean energy & environment sectors, Mr. Dube has led IIEC's business in India and South Asian countries. He has been working with international agencies like World Bank, UNEP, UNDP, GIZ, and British High Commission on various clean energy and climate change programs.
He received his M. Tech. in Soil & Water Conservation Engineering from GB Pant University of Agriculture and Technology, Pantnagar, Uttaranchal, India and completed a Certificate course on 'Energy Planning and Environment' from University of Oslo, Norway.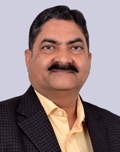 Mr. Sanjay Dube, appointed as the new CEO of IIEC (left) and Mr. Felix Gooneratne, transitioned to Executive Director (right)