IIEC Recent News
PRESS RELEASE: IIEC Honors Founder Rob Pratt Stepping down from the Board after 35 years of Service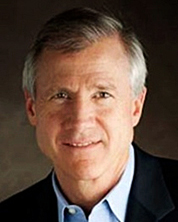 August 30, 2019 - The International Institute for Energy Conservation (IIEC) is honoring Founder Rob Pratt, who recently stepped down as Chairman and member of the Board of Directors after 35 years of service to the Institute.
John Mollet, a long-time Board member who was elected Chair in succeeding Rob, said that "the IIEC is thankful for Rob's leadership in founding and working with the Institute for more than three decades. His dedication and commitment to the IIEC over many years was inspiring to those of us who served with him on the Board."
Rob founded the IIEC as well as its first major project in 1984. He conceived, developed and obtained funding for the China-US Metallurgical Energy Conservation Project in collaboration with the Chinese Metallurgical Institute, Qing Hua University, the State Economic Commission, and the Maanshan Steel Plant as a demonstration facility. The IIEC was one of the first international non-profit organizations working on energy efficiency in China, and it maintained an office there until the early 2000s.
Over his years of service with the IIEC, Rob worked closely with all of the Institute's Executive Directors/Presidents/CEOs, including Bailey Spencer, Deborah Bleviss, Russell Sturm, Griffin Thompson, Nitin Pandit, Felix Gooneratne, and Sanjay Dube. Rob and Deborah, in collaboration with the United Nations Environment Programme, established the IIEC's Asia Regional Office in Bangkok in the late 1980s, from which the IIEC has done some of its most important work, including the implementation of several national Demand-Side Management (DSM) programs in Asia.
"I am grateful for the role that the IIEC has played over the years in advocating and implementing energy efficiency policies, projects, and initiatives in over 50 countries," Rob said. "I'm passionate about accelerating clean energy implementation given its importance as a major solution to reducing GHG emissions and addressing our enormous climate change challenge. There has never been a time when energy efficiency was so important to the planet."
Felix Gooneratne, with whom Rob worked closely for many years in Felix's leadership roles with the IIEC, said: "I appreciate Rob's contribution to many new initiatives that we have undertaken together over the years in furthering IIEC's mission".
Rob has resigned from the IIEC Board in order to start up his fourth company, Pacific Clean Energy Partners (PCEP), a development company whose goal is to develop $5-20+ million projects in the Pacific Islands and elsewhere that will integrate energy efficiency, renewable energy, and energy storage.
- End -